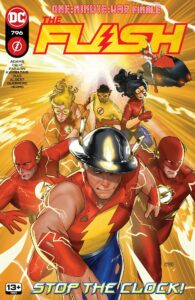 The "One-Minute War" has been a very wild ride and one of the best arcs yet for Wally West and the Flash Family. The big question is – did Jeremy Adams and company stick the landing? The answer is an unequivocal yes! THIS is how to do an event comic – wanna know more? Follow us after the jump!
SPOILERS AHEAD!
The "One-Minute War" has been a fantastic arc – and this finale is a perfect end to the story. If you like high-intensity action, this is your book. If you like great character development, still your book. If you want to see how to do a GREAT event book without needing 140 crossover issues, This. Is. Still. Your. Book.
Rather than give you a detailed breakdown, let's go over the major threads that have been resolved in this issue:
The heroes who supposedly died in Heroes in Crisis were saved by Gold Beetle. Here, we not only get the proof of their survival – we get the explanation of just how that happened.

AND as a bonus – we get a couple of…historic…characters from Wally's redemption storyline joining the fray.

And those heroes who did not die in that awful mini-series? That get to join the fight, with specially rigged harnesses that let them join the fight for…ONE MINUTE. Now we get the meaning of "One-Minute War".
All the Flash family have played important roles in this arc, and they all pull together to make things turn around for their families and for the entire world.
In the end, Wally is reunited with his family.
And, in the end…Barry and Iris are engaged!!! Finally!
And, Max Mercury and Bart Allen are headed for new adventures in the timeline (hopefully in future stories)
Here's the thing – Jeremy Adam's time on THE FLASH has healed all the wounds that FLASH fans have felt since the New52 began. Adams has healed the wounds that Heroes in Crisis and other storylines inflicted on Wally. And it's not just for Wally – Barry and Iris are finally engaged, bringing their relationship closer to where is was before FLASHPOINT. And, Irey finally has her own codename and costume as Thunderheart.
So…once again…THANK YOU to Jeremy Adams! We still have a handful of issues to go before the changeover of creative teams, so there are a few more great stories ahead. I'll be more than willing to give any new creative team for THE FLASH a chance…but I will say that they have big shoes to fill.
SUMMARY:
This issue, and this arc, are a 10/10 for me. Of course, that's just my opinion. What do YOU think? Leave your comments below!
Share