Hey Speed Readers,
As the latest Justice League video game, Injustice: Gods Among Us (due out in 2013) gets further along in development, Ed Boon and the folks at NetherRealm studios are keeping us in the loop with this recent bit of extended gameplay footage. So far we've been privy to various bits of videos, some wallpapers and art of the confirmed characters featured in the title. Now Ed Boon via IGN brings us 15 minutes of gameplay featuring The Flash vs. Superman (As well as Grundy and Batman which can be seen HERE!
Some pics courtesy of IGN via Screencap: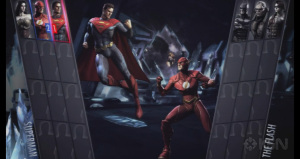 From the character select screen. It looks like we will be getting a total of 12 Heroes and 12 Villains for a combined total of 24 characters. Unless they are already included in this build I could see us getting a couple more characters via DLC (Download Content). At least this time around all the characters should be DC-related.