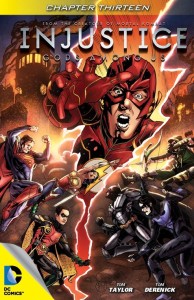 The Flash takes center stage in Injustice: Gods Among Us #13 (digital) by Tom Taylor (no, not that Tom Taylor) and Tom Derenick. The series is a prelude to the upcoming video game.
In the land down under, The Flash must face the consequences of his choices. Superman and Wonder Woman have brought their campaign for a new world order to Australia and are confronted by a new hero. But what connection does this would-be champion have to the Scarlet Speedster?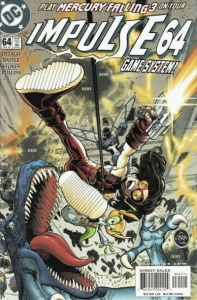 Digital backissues include:
Flash #125: Lead-in to "Hell to Pay." Rejected by Keystone City, Wally West protects the coastal city of Santa Marta, California, where Major Disaster plans to create a massive earthquake. Meanwhile, Keystone's mayor finds that kicking the Flash out might not have been the best idea when the Rogues return from the dead. Mark Waid, Brian Augustyn, Paul Ryan & John Nyberg.
Impulse #63-64: "Mercury Falling" continues. Can Impulse pull together what it takes to save the dying Max Mercury? Or is inertia keeping him from unleashing his full potential? Bart says goodbye to his oldest friend in these issues. Todd Dezago, Ethan van Sciver.