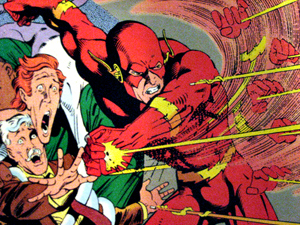 I remember staring at the Greg LaRocque cover for Flash #48 for the better part of an afternoon, terror frozen in time while a flare of hands stopped a hail of bullets.
Weekly trips to the general store turned into transparent check-ins for the latest issue of Flash.  Galvanized by the TV show, fandom took over.  After receiving and wearing-out a copy of The Greatest Flash Stories Ever Told, I saw the avenues and inroads throughout Flash's fictional history.
I had fallen in love with the concept of moving faster than humanly possible, and the implications and consequences therein.  Challenging the limits of time and reality, while remaining grounded in a world of human limitations…what more could comics offer?
As I grew up, I was especially thrilled by something I had managed to overlook: the prose piece in the Greatest Flash Stories, "The Final Flash Storyline".  I sought out each original installment at once.
Those waning days of almost unending tribulation and tragedy, spent in the constant specter of death, were unlike any other hero story I had read.  Written by longtime Flash scribe Cary Bates, the issue-by-issue cascade of the Final Flash Storyline broke my heart.  It also provided context, and weight.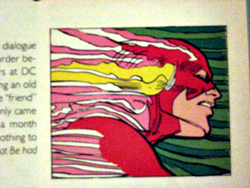 The new world of The Flash's protégé, carrying on in his name and dealing with a different set of challenges, made it simple for me to stay dyed crimson in the comic book wool.  What an amazing hook.
Along the way, I immersed myself in Kelson's unparalleled Those Who Ride the Lightning site, a major source of information and reading material when I was putting together the bulk of my Flash collection.  I was of course very excited, as a fan, when the Speed Force blog launched.  Concentrated Flash news!
I hope I'm able to do justice to the standard set by Kelson, and Devin.
With a few interviews on the board, I'm looking forward to working and collaborating on some projects for this space, including:
Annotations for the contents of the upcoming Trial of the Flash reprint, and related reading
Reviews and analysis of the Flashpoint event and tie-ins
More interviews with creators, and others linked to the generation of Flash stories, artwork and other media
You can follow me on Twitter, www.twitter.com/gregislands.
Many thanks to Kelson!