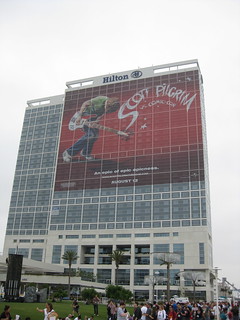 Some items I've written about elsewhere that might be of interest to this site's readers.
First up: I've finally found the time to finish my San Diego Comic Con write-ups! Here's Saturday and Sunday at Comic-Con International!
Review: I liked Scott Pilgrim vs. the World. It was a fun movie/comic/video game mash-up, and it's a shame that so few people have gone to see it.
Speaking of reviews and things that are insanely late: I found some interesting reviews on Amazon this week while looking for long-delayed fantasy books, including Tokoypop's Labyrinth and Dark Crystal series. I found it most amusing that George R.R. Martin's fans are already reviewing A Dance With Dragons…even though the book isn't finished yet. More precisely: they're reviewing the wait for the book!