With issue #6 hitting stands today, the Flash creative team of Francis Manapul and Brian Buccellato are featured in two new interviews, one over at Newsarama and the other at PopMatters.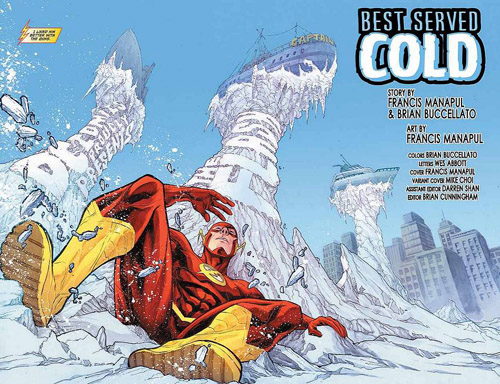 The Newsarama piece discusses the reintroduction of Captain Cold, the new character Turbine, as well as the vision for Speed Force as it appears New 52 version of Flash.  They also discuss the pacing of the title, noting stories will be told in one-to-two issue sets for the next few months.  The article features preview pages from issue #6, out today, as well as the first announcement of a new Flash Annual, due before issue #12 hits stands.
On their upcoming portrayal of the Speed Force:
Manapul: Inside the speed force itself will be quite different. I think before, it's always been portrayed as just these speed lines and light and stuff like that. We really want to make it a world that's fully realized, you know? And when the Flash enters this world, we want the readers to be in awe just as much as Barry Allen is.

It's really going to be quite different visually.
More after the jump, including selections from a new interview with PopMatters.