With issue #6 hitting stands today, the Flash creative team of Francis Manapul and Brian Buccellato are featured in two new interviews, one over at Newsarama and the other at PopMatters.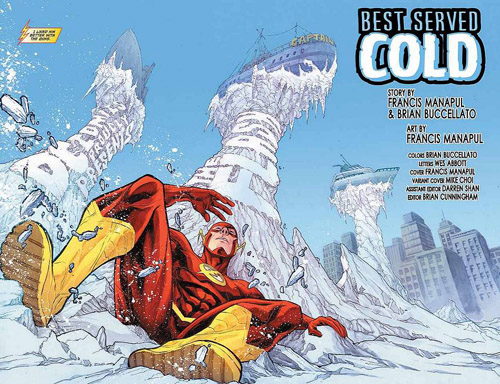 The Newsarama piece discusses the reintroduction of Captain Cold, the new character Turbine, as well as the vision for Speed Force as it appears New 52 version of Flash.  They also discuss the pacing of the title, noting stories will be told in one-to-two issue sets for the next few months.  The article features preview pages from issue #6, out today, as well as the first announcement of a new Flash Annual, due before issue #12 hits stands.
On their upcoming portrayal of the Speed Force:
Manapul: Inside the speed force itself will be quite different. I think before, it's always been portrayed as just these speed lines and light and stuff like that. We really want to make it a world that's fully realized, you know? And when the Flash enters this world, we want the readers to be in awe just as much as Barry Allen is.

It's really going to be quite different visually.
More after the jump, including selections from a new interview with PopMatters.
Manapul on Grodd, set to appear in issue #9:
They're definitely going to be a lot more brutal. The thing that we really want to express with Gorilla Grodd is we want a villain that's scary. We want to really instill a lot of fear in Barry Allen. So far, a lot of the villains have reflected Barry Allen in some way. Mob Rule reflected what it's like if you run away from your problems. Captain Cold will be a reflection of what you're willing to do and where you draw the line. I won't say what the reflection is with Turbine, because you'll find out. And then with Gorilla Grodd, it's going to be fear.
There's a lot more to the piece, make sure to check it out over at Newsarama.
The PopMatters piece is a more in-depth analysis of the duo's contributions to Flash lore.  Part essay and part interview, it includes a great deal of exposition on Flash history, while covering the current direction and upcoming arcs as well.  An appreciation of Manapul's experimental artwork is also included, beginning with Manapul's tenure as artist with former Flash scribe Geoff Johns:
"He's a fantastic cinematic storyteller", Francis continues, "and I took a bit of that. But then also, being there from the beginning, I'm able to push and experiment with certain things. Knowing truly what the subtext of the story is, allows me a certain flexibility of pushing my art and pushing the layouts. Going back to the Manuel Lagos scene where we find out how his organs were used for the clones, I was able to create a multi-layer storytelling within a double-pager. In which you can read the story going on within in the panels, but then you can look at the panels themselves, and just the shapes of them also tell another story as well. It enhances the way the story's being to.
Buccellato on Mob Rule, and the role real science is playing in the title:
"In the case of Mob Rule", Brian continues, referencing the new series' first villain, and a unique addition to Flashlore courtesy of Francis and Brian, "he's exactly the opposite of what Barry Allen wanted to be. Barry wanted to be so fast that he could be more places than one. And the thing is, he's only one man. And it felt like the physical manifestation of an antagonist that would work perfectly for this situation is a person that can be in multiple places at once. And what made it more difficult is his personal connection to Manuel and Mob Rule. And the science sorta fell into it…".
Be sure to check out the rest of the article over at PopMatters, and don't forget that Flash #6 hits stands today!
Share