Some Monday morning linkblogging…
Flash…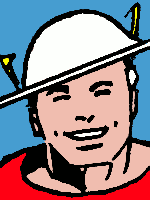 Comics Should Be Good's Year of Cool Comics spotlights "Flash of Two Worlds" — or more precisely, the Grant Morrison/Mike Parobeck retelling of the story from Secret Origins #50. The story was recently reprinted in Flash: The Human Race.
Speaking of CSBG, Brian Cronin reviews Flash #1-3 and settles on "delightful."
Comic-Con…
Will Comic-Con International leave San Diego? Publisher's Weekly has a good round-up of the situation.
Now that the full schedule for this year's convention is online, I've updated my Flash at Comic-Con post. I've also added a couple of items to my Tips for Comic Con.
…and Beyond!
A group of webcomics artists have put together a Web-Comics Auction for the Gulf Coast benefitting the Colbert Nation Gulf of America Fund. (via The Nerdy Bird.)
With ComiXology making waves, Comics Worth Reading checks on the status of other digital comics platforms like Graphic.ly and Longbox.
In light of Death's upcoming appearance in Action Comics, Comics Alliance rounds up the long history of Sandman and the DC Universe.
Update: Let me add two more here: Collected Editions has worked out the Blackest Night reading order for the trades/hardcovers, and Once Upon a Geek has also taken a stab at Death in the DCU.