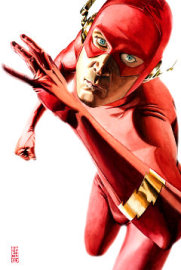 Could the Flash be running toward another relaunch? Fans have been speculating for months, ever since rumors surfaced that Silver Age Flash Barry Allen might be returning in Final Crisis.
There are certainly signs that point to change.
Sales on The Flash have continued to drop since last summer's relaunch brought Wally West back from limbo and introduced the Flash Family.
Barry Allen has indeed returned, off-panel in April's DC Universe #0 and (reportedly) on-panel in next week's Final Crisis #2.
The miniseries Final Crisis: Rogues' Revenge is clearly going to be high-profile — quite possibly higher-profile than the ongoing book.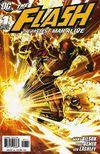 The book has been relaunched twice* in as many years. Flash: The Fastest Man Alive, launched in the wake of Infinite Crisis with Bart Allen as lead, lasted only 13 issues from 2006–2007. The revived Wally West series, picking up at #231, will hit 13 issues by the end of the current storyline. If DC stays true to form, it's pretty much due.
Then there's the setup. Fan response to the Flash Family has been mixed at best. While some love Iris and Jai West, others would rather see them as normal children, and still others would happily throw them under the bus. (And yes, I've seen that sentiment expressed on message boards.) DC might (rightly or wrongly) conclude that the twins are a liability to the franchise.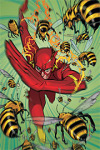 Today's Flash #241 features part 4 of Tom Peyer's 6-part "Fast Money." The storyline is scheduled to wrap up in #243, due in August. Signs initially pointed to Peyer writing the book long-term, but DC's September solicits show a new creative team after the story concludes: writer Alan Burnett and artist Paco Diaz. With a title like "This Was Your Life, Wally West," things don't look too good for the current speedster.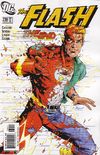 There's no official word yet on whether Burnett replaces Peyer as the regular writer or whether Peyer will be back after a couple of issues, though Peyer's MySpace page says he's "writing six issues of The Flash for DC Comics with artist Freddie E. Williams II" (emphasis added). Update: I contacted Tom Peyer through MySpace, and he confirmed that #243 is his last issue:
Flash #243 is my last issue. We went into it with no set time I'd be leaving, which is why we seemed so cagey about it, and we parted friends.

My next mainstream work is for Marvel Apes, which is kind of like Marvel Zombies but they're apes; please check it out in the fall.
What's still unclear is how long Burnett is scheduled to be on the book. The situation is eerily similar to early 2006: early in the stages of a cosmic "Crisis" crossover, a new team comes on board with a final-sounding storyline. The write-up even echoes the earlier story's title, "Finish Line."
Edit: And, on top of all that, editor Joan Hilty is leaving the book for Vertigo.
So what does all of this mean? No one (outside of DC's offices) knows yet… though there's plenty of speculation. Will we see another relaunch with Barry Allen taking over for his successor? Or a new direction for Wally, perhaps without the twins? Will Wally and Barry share the lead? Or will Rogues' Revenge lead into a second Flash ongoing with Barry?
*In point of fact, since Geoff Johns left the book in 2005, no creative team has lasted longer than half a year. Joey Cavalieri penned Flash v.2 #227-230 marking time until its cancellation for the Bart relaunch. Danny Bilson & Paul DeMeo wrote the first 8 issues of Flash: The Fastest Man Alive before being replaced by Marc Guggenheim, who handled writing chores for the 5 issues leading up to its tragic end. Mark Waid wrote the transition, All-Flash #1, and Flash v.2 #231-236. Poor reception led to him leaving, with Tom Peyer coming on board in Flash v.2 #238. And then there's Alan Burnett on #244.
Share