A few more bits:
Mark Waid appears on tonight's LA Ink. Should've posted this earlier!
Final Crisis Annotations: Rogue's Revenge #3 completes the series.
Fortress of Baileytude examines Flash Secret Files #1, which reminds me of a couple of past blog posts: Comic Coverage's parody of an endorsement in Smoking Superheroes, and my response that looked into the slow process of removing Jay Garrick's smoke break from his origin.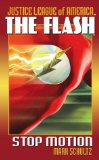 Next month, Graphic Audio is releasing an audio book of the prose novel The Flash: Stop Motion by Mark Schultz.
Everyone seems to be talking about Richard Donner's suggestion to give the Superman movie franchise to Geoff Johns. (via CBR, Newsarama and more)
As if two Flash comics on one day weren't busy enough, there was a third Flash released on Wednesday: the a new version of the web animation plugin, Flash 10.
Incidentally, the last 24 hours have been the busiest yet on this blog. Note to self: write more reviews!
Share