With Barry Allen back, sales slipping, and a recent history of backtracks and revamps that makes a drowning victims's flailing look stately, it was clear months ago that change was coming. Once Flash: Rebirth was announced, the only question was: when would the axe fall?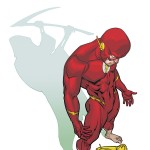 At the time the current storyline, "This Was Your Life, Wally West," was announced, the story's conclusion seemed a likely candidate. But #247 was solicited without any indication that it would be the final issue. Speculation started again, that there might be a single Faces of Evil issue spotlighting a Rogue, or that it might end with a blow-out issue #250, or might stop at #249, with the new, relaunched series combining numbers and relaunching with #600.
Today, DC Message Board member adohall posted that he received a letter from DC as a subscriber that Flash would be ending with #247, and he would need to choose another book to replace it on his subscription. Update: Comic Bloc's Mark MacMillan confirms that he received the same letter.
It seems that Monday's solicitations for January will have a distinct lack of Flashiness.
Share