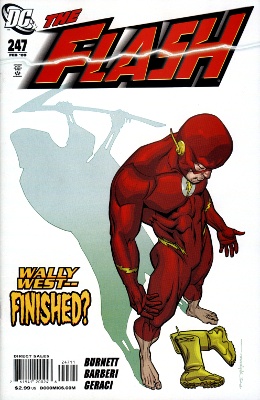 Well, if Wally West's series had to end — again — at least he got a decent send-off. Flash #247 concludes Alan Burnett's four-part "This Was Your Life, Wally West". This story wraps up threads from the current run of the series, looks back on Wally's entire super-hero career, firmly establishes his roots in the Justice League and Titans, and sets up a few beats that can be picked up for future stories with the characters.
It picks up immediately after the previous issue's cliffhanger, resolving the threat to Linda before rushing headlong into battle with the Queen Bee. This month does feature another flashback, this time to the West family's time on the planet Savoth, but it's only two pages. It ends with a conclusion that's not quite an ending, but a place to stop. DC isn't burning any bridges here the way they did with "Full Throttle" and the end of Bart's series.
It's also much better than "Finish Line," the four-parter that wrapped up Wally's series the last time it was canceled, from Flash #227–230. It was better written, better researched, and actually made an effort to tie together the rest of the series. The only thing "Finish Line" has over "This Was Your Life, Wally West" is consistent art.
While the first issue of the arc was penciled entirely by Paco Diaz, and the second and third were penciled entirely by Carlo Barberi, this issue was done by committee. Barberi gets the cover spot, but is joined by J. Calafiore and Andre Coelho. I'm not familiar with either of their work, so I couldn't tell who did which pages, but the shifts in style were jarring. Normally changes in artist don't bother me, especially if their styles are similar or if the change is done for thematic effect. (An example in The Flash would be Race Against Time, in which each issue used one art team for Wally's storyline and another for John Fox's.)
Brian Stelfreze's cover, on the other hand, has got to be one of the best Flash covers since the relaunch. (I'd also include issues #243 and #246, both by Freddie Williams II) The starkness of it, with the plain white background, the shadow of the grim reaper, and the Flash standing barefoot with his boots off, says everything that needs to be said about what he's up against. Honestly, I think it would work better without the "Wally West — Finished?" caption, or even the title logo.
Spoilers after the cut:
.
SPOILERS AHEAD!
.
.
.
.
I was glad to see that they resisted the urge to actually kill off Linda, Iris, or Jai. I figured they probably wouldn't, since all indications are that Final Crisis takes place later and has them all still around and healthy, but DC has had some, shall we say, high-profile mix-ups in continuity lately. And of course, they could all die in Flash: Rebirth or the last two issues of Final Crisis for all I know.
Speaking of Linda and her death, taking the near-death experience to satisfy the Spectre's proclamation from last year seemed a little easy (and made me think of the "Prophecy Girl" episode of Buffy the Vampire Slayer, not that it hasn't been done a million times elsewhere), but they took it somewhere thematically appropriate, with her love for Wally guiding her back to life. It's a nice counterpoint to the times that Wally has nearly died in the speed force, only to be guided back to this plane by his love for Linda.
I have to admit, as a long-term Titans reader (1984 through 2005, plus back issues all the way to the beginning), I got a kick out of seeing the Titans going up against the H.I.V.E. once again.
Structure-wise, it was good to see that the device the Queen Bee stole proved to be more than simply a MacGuffin, and was also (as I suspected) the solution to the "speed disease" problem. It seemed appropriate that Iris was the one who figured out how to use it to restore her father's connection to the speed force, mirroring the conclusion of "Fast Money."
The way Zazzala manipulated Iris was just plain creepy. Yes, she was hypnotized. But pretending to be her mother, and forcing her to kill people (assuming the HIVE drones were people) is seriously disturbing. It makes sense that she'd still be having nightmares. That, and Jai's eagerness to fight, are themes I'd like to see explored in future stories, whether in Flash: Rebirth, subplots in the post-relaunch Flash series, or in the second Flash series I keep hoping will follow like Green Lantern Corps followed the relaunched Green Lantern.
It's tough. I'm still not happy the series is ending. I've followed this character for twenty years, and while I've read every issue of Barry Allen's series, he just doesn't click with me the way Wally does. But at least he went out with a good story this time.
Share