This week's going to be a bit light because I'll be on vacation. That's not to say I won't be around — I've pre-written and scheduled a couple of posts, some of the hotels will have wifi, and I've got a near-permanent link to the Internet now in the form of a G1 phone — but I'll be spending a lot of time doing touristy things and hanging out with people instead of spending all day in front of a computer.
Then at the end of the week I'll be attending WonderCon in San Francisco. Keep an eye on SpeedForceOrg on Twitter and my Flickr photos, plus I'll make occasional posts here. My con report(s) will go up at K-Squared Ramblings, with anything Flash-specific here.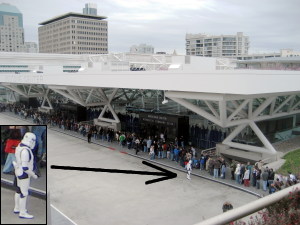 You can read my write-up of last year's WonderCon, as well as check out last year's photos.
Share