I learned from The Beat that, due to remodeling at Moscone Center, WonderCon, the smaller sibling of Comic-Con International, will be moving from San Francisco to Anaheim for March 16-18, 2012. I'm of mixed feelings about this.
I've gone to WonderCon for three of the last four years and really enjoyed it. The Comic-Con International people may still be trying to figure out how to handle huge crowds, but they really know how to plan a convention. So the key thing is, I'm glad that it's happening next year.
The location is going to really change the experience, though.
I live in the Los Angeles area, so the move to Anaheim is going to make it an in-town convention that I can easily drive to each morning. But I liked the fact that San Francisco was just far enough to go out of town for a weekend without flying, and a good excuse to visit places along the way like San Luis Obispo and Hearst Castle, Monterey and Carmel, or nearby areas like San Jose and Napa Valley. We've also got family and friends in the Bay Area, so heading up a few days early makes it into a good combined visit & convention trip.
The character of the city is vastly different, though.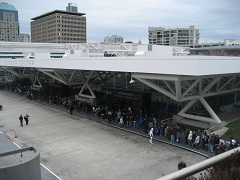 Moscone Center is in the heart of downtown San Francisco. The Anaheim Convention Center is across the street from Disneyland. There's a lot of stuff to do near Moscone, plus great public transportation. In Anaheim, as I verified last year you're surrounded by hotels, motels, and restaurants. Not a problem if all you want to do is get out for a bite to eat, but if you want to go farther out, you're probably going to have to drive. (On the plus side, the roads are flat and wide, and the parking's a lot cheaper.)
And then there's the Hollywood factor. San Francisco is a short commuter flight away. Anaheim is an hour's drive. WonderCon, at least in the years I've gone, has had a strong Hollywood presence, but it hasn't overshadowed the actual comics the way it has in San Diego. Being so much closer could change the balance (but it doesn't have to).
Speaking of San Diego, there's another thing to consider: With demand sky-high for Comic-Con International tickets, Anaheim smack in the middle of Southern California, and WonderCon run by the same people, a lot of con attendees are going to aim for WonderCon as an alternative. Depending on how much of the usual Bay Area crowd decides to take to the road, this could be a more crowded event than usual.
All in all, I'm going to like having WonderCon close by next March, but I hope they're able to move back to San Francisco for 2013.
The Wizard Factor
One more interesting thing: CCI, Reed Exhibitions, and Wizard actually coordinated this move. Reed moved C2E2 from March to April so it wouldn't conflict with WonderCon's new dates, and Wizard "postponed" the April 2012 Anaheim Comic Con. Which is kind of an odd thing to say, since just a few weeks ago, Anaheim dropped off the schedule completely while Wizard's Los Angeles Comic Con (scheduled for late this month) was "postponed." Now Anaheim's back on the website (at least in the "Upcoming cons" list) with the April 2012 dates that the press release says are being changed, and Los Angeles is gone, both from that list and from the drop-down menu.
I'm not sure what Wizard's trying to do in the LA/OC area, but hey, we've got Long Beach Comic Con next month and Comikaze Expo in November, and now WonderCon in March, at least for a year. I think we'll be fine.
Read more at my other blog: