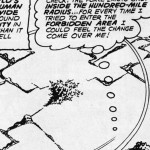 With Barry Allen returning, it's clear that Central City is going to get a lot more attention. The Absorbascon has calculated the size of Central City based on depictions in Flash comics, determining that it covers 62 times the area of Manhattan and contains 100 million people. Actually, the Absorbascon has a running feature on the vastness that is Central City.
Comic Coverage looks at the earliest costume tweaks for the Flash: the disappearing lightning bolts on Jay Garrick's legs.
The Views from the Longbox podcast is starting a series of additional episodes focused on Flash: Rebirth, Views from the Speed Force.
4thletter has an interesting question: What's your deal-breaker? What would cause you to drop a book, or a writer, or a publisher, or even comics altogether?
Share