Yes, according to Diamond, Flash: Rebirth #5 is actually shipping this week! As if that weren't enough, there's the JSA 80-Page Giant, new issues of Tiny Titans and Super Friends, the trade paperback of JSA: Thy Kingdom Come vol.2, and a Showcase volume featuring Superman Team-Ups from DC Comics Presents…opening with a Superman/Flash race.
No sign yet of the final cover for Flash: Rebirth #5, or the variant cover, or a preview. UPDATE! While I was at lunch, DC posted a 5-page preview with the covers. I'd like to say two things: First, that alternate cover with Max and Bart is seriously making me cnosider picking up the variant again. Second…I called the coloring change on the main cover back in July!
The Flash: Rebirth #5
Written by Geoff Johns
Art and covers by Ethan Van Sciver
The greatest threat to face the Flash Family in decades stands revealed! A new hero will step into an old speedster's boots! And Barry Allen will make the ultimate sacrifice: his life! Oh yeah, you read that right, but you'll never believe just what it means! They always say nothing will ever be the same, but trust us, this one will rewrite the history books!
This issue will ship with two covers. For every 25 copies of the Standard Edition (with a cover by Ethan Van Sciver), retailers may order one copy of the Variant Edition (with a cover by Ethan Van Sciver).
5 of 6 · 32 pg, FC, $2.99 US
Other books shipping this week behind the cut:
Justice Society of America 80-Page Giant #1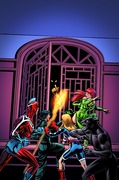 Written by Zander Cannon, Kevin Grevioux, Felicia D. Henderson, Jen Van Meter, Jerry Ordway, James Robinson and Matthew Sturges
Art by Roberto Castro & John Floyd, Neil Edwards & Wayne Faucher, Renato Guedes & Jos Wilson Magalhes, Jesus Merino, Jerry Ordway, Freddie Williams II and others
Cover by Jerry Ordway
The newer members of the JSA explore the team's mansion headquarters and learn a thing or two about themselves in 7 exciting stories from today's top creators in this oversized special! But who directs the group through the deep, dark halls of building? Is it a friend, or a very dangerous foe?
80 pg, FC, $5.99 US

Super Friends #21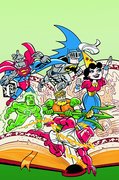 Written by Sholly Fisch
Art by Stewart McKenny & Dan Davis
Cover by J. Bone
Once upon a time…the Queen of Fables trapped the Super Friends! Can they win the day — or will there be no happy ending?
32 pg, FC, $2.50 US

Tiny Titans #22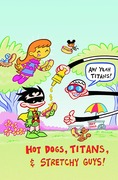 Written by Art Baltazar & Franco
Art and cover by Art Baltazar
How many stretchy Super Heroes can you fit in the Tiny Titans treehouse? As many as you like — until they get tangled into knots! Join the search when The Atom's family lose their tiny bouncy ball. Also, there's a new janitor at the school, and it's not who you think! Plus, the Bird Scouts welcome a shiny gold new member!
32 pg, FC, $2.50 US
Justice Society of America: Thy Kingdom Come Part 2 TP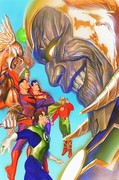 Written by Geoff Johns and Alex Ross
Art by Dale Eaglesham & Ruy Jose
Cover by Alex Ross
The Kingdom Come Superman continues to crusade against evil alongside his new Justice Society teammates — but is he the only one who can stand against the threat of Magog? And what are Gog's true motives? This hard-hitting new volume, now in trade paperback, collects JUSTICE SOCIETY OF AMERICA #13-18!
192 pg,FC, $19.99 US

Showcase Presents: DC Comics Presents – Superman Team-Ups Vol.1 TP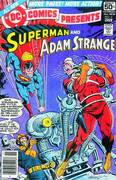 Written by Len Wein, Paul Levitz, Cary Bates and others
Art by Jose Luis Garcia-Lopez, Murphy Anderson, and others
Cover by Jose Luis Garcia-Lopez
Superman meets DC's greatest heroes including The Flash, Green Lantern, Wonder Woman and many more in this title collecting DC COMICS PRESENTS #1-26.
512 pg, B&W, $17.99 US
Note: DC Comics Presents opens with a two-part Superman/Flash race.

Share