I was hoping to get more responses to this one, but only 25 people responded — of whom 9 had never been to a con.
Q: What's the farthest you've traveled for a fan or comic convention?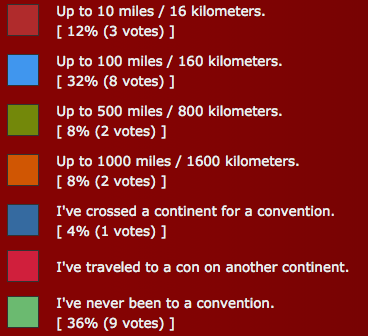 Of those who had, the largest number by far had traveled between 10 and 100 miles to attend a con (8 of 17, or 47% of congoers). For comparison, that's about the distance from New York to Philadelphia, Chicago to Milwaukee, or Anaheim to San Diego. (Los Angeles to San Diego is a little farther, about 120 miles from downtown to downtown).
Others had traveled only short distances, a few had traveled longer, and only one had crossed a continent. East coast to San Diego, maybe?
Speaking of San Diego, Comic-Con International has finally posted a progress gauge on their website showing ticket availability. 4-day passes without preview night are already 70% sold…and it's only November!
And me? The farthest I've traveled for a convention is about 400 miles: from southern California to San Francisco for one WorldCon and two WonderCons. Otherwise, my con visits have stayed within that popular 100-mile radius, northwest as far as Los Angeles and southeast as far as San Diego.
Next Poll: When do you think Flash: Rebirth will finish?
Share