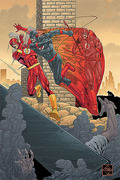 It looks like Flash: Rebirth #5 won't be out next week after all. Reader Perplexio wrote in to point out that DC's website now shows a release date of November 18.
The funny thing is, I checked it two hours ago and it still said November 11. It's starting to feel like I should check it on an hourly basis!
No change on the release dates for Flash: Rebirth #6 or the first two issues of Blackest Night: The Flash.
The current schedule looks like this:
It's beginning to look less and less likely that Flash: Rebirth will finish this year. With no comics shipping the week of December 30, even a one-week slip on issue #6 will push it into January.
Share