As previously reported by Kelson, in a effort to fill in the gaps of characters not yet made in the Justice League Unlimited toy line, Mattel is releasing the Justice Guild of America Set on 2/16 for sale exclusively at Mattycollector.com for $30.00.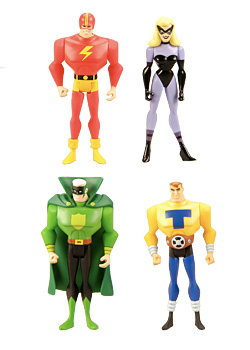 Justice League and Justice League Unlimited devotees will remember the Justice Guild of America from the Season 1 episode "Legends". The Justice Guild was the closest the show got to featuring the original Justice Society of America, as the creators of the show were not allowed to feature any of the original members due to the nature of the story. To that end they created several analogs that were a direct homage or in some cases a combination of characters.
The Streak was obviously based on Jay Garrick, the very first Flash (and the primary reason I'm featuring and purchasing this set). The Green Guardsman and Black Siren were Alan Scott (Green Lantern I/Sentinel) and Dinah Lance (Black Canary I). And Tom Turbine and Catman were amalgamations of the original Atom/Golden Age Superman and Batman/Wildcat respectively. Unfortunately for Batman and Wildcat fans we won't be getting Catman, but every other member of the group is present and accounted for (well except for mascot, Ray Thompson, himself a tribute to classic comic book writer, Roy Thomas and celebrated author, Ray Bradbury).
Again, the set goes on sale at Mattycollector.com for $30.00 on 2/16 so be sure to swing by there and grab yours before they are all gone. And yes there is a limited stock.
-Devin "The Flash" Johnson
Share