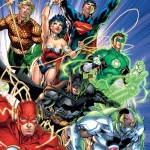 With Comic-Con International on the verge of taking over the comics press cycle and fan collective mind for the next week, DC Comics has announced their next animated feature after Flashpoint Paradox: Justice League: War in 2014, based on the first storyline in the New 52 Geoff Johns/Jim Lee Justice League series.
This is the first New 52 storyline to be adapted to animation. Some of the voice case has been announced, including Chris Gorham (Covert Affairs, The Batman) as the Flash.
More info at Newsarama and Comic Book resources.