Do you want to own a piece of Flash: Rebirth? Now's your chance. Ethan Van Sciver has posted two pieces of original art from the miniseries on eBay: the Flash: Rebirth #2 Cover and a Flash: Rebirth #4 splash page featuring Jay Garrick and Bart Allen smacking down the Reverse Flash.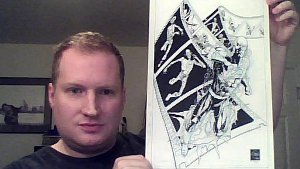 Both auctions end on Thursday, February 18. So far the cover is up to $267.00, and the splash page is up to $108.50.
Lia Brown reports that this isn't the first time original art from the series has made it to the online auction site, though this appears to be the first time the artist has put it up for auction there himself.
Update (Friday): The cover sold for $2,310 and the splash page went for $1,152.
Share