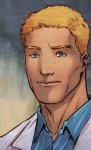 With Flash: Rebirth complete, we can take a look at the changes the series made to the Flash mythos. I listed a lot of them in my review of issue #6 (resurrections, costume/identity/power changes, the re-imagining of the speed force itself, etc.), but I want to look at a specific set of changes: What the Reverse-Flash did to Barry Allen's past, and the ripple effect from those changes.
Note that I'm specifically looking at things that contradict previous stories, not those that add new details that can be considered to have been hidden.
Spoilers for Flash: Rebirth, of course.
Definite Changes
The Allens moved from Fallville, Iowa to Central City, Missouri when Barry Allen was a child. Presumably this happened after the Reverse-Flash burned down their house. (In the original timeline, they remained in Fallville and Barry moved to Central City after college.)
Barry's mother was murdered when he was a child, and his father was framed for it. Henry Allen was convicted, went to prison, and died there years later. Barry Allen shut himself off from life and dedicated himself to proving his father's innocence. Someone else must have raised him, but we don't know who. (In the original timeline, Henry and Nora Allen were still alive up through the end of Barry's initial career as the Flash.)
Barry met Iris West much later — the same day that he gained super-speed. Assuming they married at the same time, their courtship must have gone much faster. (In the original timeline, they were already dating by then.)
Albert Desmond worked at the Central City Crime Lab with Barry Allen before Barry became the Flash and Albert became Dr. Alchemy, and the two of them never got along. In the original timeline, Desmond alternated between criminal and civilian industry, and the two of them became friends after his initial costumed villain career was cut short by prison and therapy.
Other changes at the Central City Police Department include Captain Darryl Frye and Patty Spivot being around much earlier, rather than arriving several years into Barry's Flash career (both were specifically shown to be new when they first appeared), and the addition of James Forrest.
Probable Changes
Continuing with Al Desmond, Flash Secret Files 2010 indicates that his split personality was caused by the Philospher's Stone, implying that in the new timeline, he may have skipped over his Mr. Element theme and gone straight for Dr. Alchemy.
Because Barry's parents weren't around, we can assume that the Top didn't return to life by possessing Henry Allen when his heart stopped in a car accident. Because this led directly to Barry asking Zatanna to "fix" the Top and make him a hero instead of a villain, it's possible that the Top never messed with the Rogues' minds, preventing their on-again-off-again efforts at reform and changing the dynamic of the Rogues after Barry's disappearance.
Depending on when the Allens moved from Fallville to Central City, Barry may never have met his childhood sweetheart, future actress Daphne Dean.
What's Stayed the Same
Barry still became a forensic scientist and still went to work for the Central City Police. He still met and married Iris. He still became the Flash, joined the Justice League, picked up Waly West as a sidekick, and saved the universe in Crisis on Infinite Earths.
In any case, Geoff Johns has set up a plot device that he can use to explain away any change he (or DC Editorial) wants, not unlike Crisis on Infinite Earths was used to explain more differences than simply merging the Golden Age and Silver Age Flash characters into a single timeline.
Share