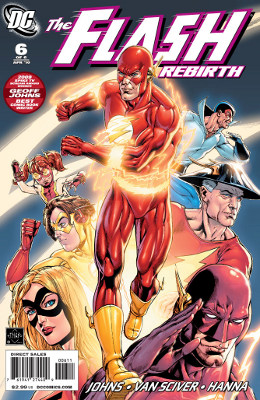 Well, it's finished. And oddly enough, that's the strongest thing I can say about the conclusion of the Geoff Johns/Ethan Van Sciver miniseries. The main story wraps up rather abruptly, taking up about half of the issue (13 pages out of 22), with the rest devoted to character bits and foreshadowing. There's certainly nothing wrong with character bits — they're actually some of my favorite parts of this issue — but instead of a tour de force, Flash: Rebirth #6 wraps up with a resounding…well…it wraps up.
I don't know if I'd feel differently about this if I'd read it before Blackest Night: The Flash, or before DC canceled their plans for the Kid Flash comic book and the backup stories featuring Wally West. I'm sure it didn't help.
The best thing about the issue is that I can actually recognize Barry Allen as Barry Allen, not as some guy who has the same name and haircut. That's one of the problems I had with the series up to this point: why go to the effort to bring back Barry Allen if you're going to give him a personality transplant?
SPOILERS AHEAD!
.
.
.
Moments
The things I liked most about this issue were mostly small: Barry and Iris together again. Abra Kadabra still alive and planning revenge. Showing each speedster in costume, waving from the parade float…and a powerless Jai West ignoring them while he plays a video game. Green Arrow grabbing a slice of cake before Barry shows up with his characteristic, "Sorry I'm late." An entire battle taking place so quickly that Thawne's dropped baton doesn't even seem to fall until after it's over. Barry and Wally arriving in the past to stop Zoom at the exact moment that lightning strikes a younger Barry Allen.
Okay, that last one is a double-sized splash page.
It was interesting to see an explicit reference to Blackest Night: The Flash, which would have appeared two months later if this book had wrapped up in September as originally planned.
Something odd: the plan to deal with Eobard Thawne feels like it comes out of nowhere. It doesn't, though. It's exactly what the Justice League was going to do to Barry in issue #3 when he was being turned into the Black Flash. It's not even adapted from what they were doing — they just finished the machine and shoved a different speedster into it.
So What Was Accomplished?
Flash: Rebirth was less about the story than it was about setting things up for the ongoing series. Barry Allen and Bart Allen had already come back during Final Crisis and Legion of Three Worlds, so what did this book do?
Max Mercury and Professor Zoom are back.
The West twins are younger again. Iris is promoted to a full speedster and takes on the name Impulse. Jai is depowered.
Jesse Quick is calling herself that again, and has a new costume inspired by her father's.
The Speed Force is re-imagined not as an impersonal energy field from which speedsters draw power, but as an energy field that Barry Allen generates…from which other speedsters draw power. Meaning that ultimately every other speedster on the planet owes his or her power to Barry Allen, even the ones who predated him. "Barry Allen made me the Flash," indeed.
There's also a "Negative Speed Force" powered by Professor Zoom.
We're clearly going to be seeing a Zoom Corps in the future. This might sound more exciting if the same author hadn't introduced the Sinestro Corps a few years ago, then expanded it to an entire rainbow of fill-in-the-blank Lantern Corps.
Barry Allen rejoins the Central City Police Department with a simple cover story for his death and rebirth: he was in the Witness Protection Program. (I do have to wonder: with all the crazy stuff that happens in reality-bending Crises, how often do ordinary people get caught up in history alterations? I remember some tongue-in-cheek references in the website that went along with 52, but I doubt that's really canon.)
Barry Allen's past has been massively retconned to give him a tragic backstory, also providing a convenient excuse for anything that DC wants to revise about Flash history from the Silver Age onward. (As if half a dozen line-wide universe-altering events aren't enough.)
Sadly, what it didn't do was convince me that I want to read the ongoing series — which, frankly, should have been its main goal.
Next month: Flash: Secret Files. Then The Flash #1 launches in April. Maybe we'll finally get a Flash story that's actually about a story, rather than about supporting some editorial decision. It's been too long.
See also:
Share