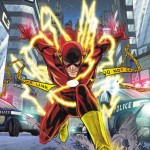 DC has unveiled the rules for the Signed Flash #1 Contest over at The Source. Today through Friday, the @DC_NATION account on Twitter will be posting one Flash trivia question a day. The first five fans to respond correctly will be eligible to win a copy of the book signed by Geoff Johns and Francis Manapul.
Speed and knowledge. That sounds like an appropriate way to celebrate the launch of the fastest forensic scientist alive.
Additionally, the first winner on Friday will also get a signed copy of Geoff Johns' script for the issue.
Full details and rules at The Source — and keep an eye on @DC_NATION!
Meanwhile, remember we've got our own contest going, too: the Design and Win Your Own Flash Ring Contest is running through April 26.
Share