I'm back from San Francisco, catching up on work, email, and reading. I'll post my WonderCon write-up when I get a chance (tonight, I hope, but definitely by the end of the week [Update: it's up now]), but for now, here are a few more Flash items from the convention: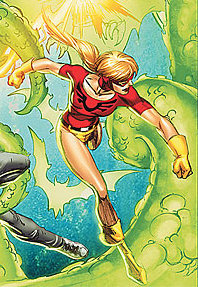 Jesse Quick will be joining the Justice League of America after the upcoming JLA/JSA crossover, as announced at the James Robinson Spotlight.
He included the character because he was always such a fan of the character's father, Johnny Quick. The writer made sure to mention that he has no plans to upset the marriage between Jessie Quick and Hourman. He promised there would be no cheap plot device to break them up.
Robinson also made some thought-provoking remarks about the Flash in the Super-Hero Origins panel, which I'll write up when I have more time and can look at my notes. Update: Here they are: JR on super-hero origins.
When asked about plans for DC movies beyond Green Lantern, Geoff Johns said, "We'll talk in San Diego." A lot of sites are taking this to mean that DC will announce Flash & other movie plans at Comic-Con International in July.
At the Ethan Van Sciver Spotlight, the artist was asked about Carmine Infantino's classic art in connection with Flash: Rebirth.
The artist said that he loved Infantino's work, and that besides Batman, the Flash has one of the best set of villains in the DCU, which Van Sciver credits to Infantino. "His characters were so unique and individual, so wonderfully different from each other," he said, also mentioning that he would love to go back to "revisit the wonderful, angular, ugly faces of Carmine Infantino's rogues, and restore them." Van Sciver even said he would talk with new "Flash" artist Francis Manapul about Infantino's rogues.
And once again, my photos from the con are up on Flickr.
Share