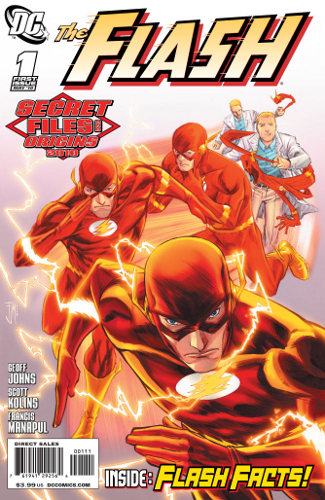 More precisely, the book is Flash: Secret Files and Origins 2010 #1. (I'm always faintly amused at the tendency of comic book publishers to slap a big "#1" on the front of an obviously one-shot issue.) Like most of DC's Secret Files books, this is made up of a lead story and a series of profile pages.
Lead Story
"Running to the Past" by Geoff Johns and Scott Kolins was a fairly standard Flash story. It doesn't really stand out as particularly good or bad, but it serves as an introduction to Barry Allen, his primary motivation (the retconned-in death of his mother), and the sometimes lonely life of a speedster.
There are some nice moments, like the sequence of panels early on in which Barry hits a light switch, pours himself a glass of water, and then the light comes on (though if you think about it, that only makes sense if the water is sped up too).
Oddly, while the whole story is drawn by Scott Kolins, the epilogue featuring the Rogues looks vastly different. It really highlights something I've mentioned before, which is how well-suited his art is to the Rogues.
It is a Barry Allen story, first and foremost, though the rest of the "good guy" speedsters show up briefly. I didn't really expect anything beyond that, but the solicitation text suggested that Wally West and Bart Allen might be more involved, and I'm sure there are people out there for whom that will be a factor in whether they pick up the book. Perhaps DC planned bigger roles or a second story, back when they still planned a series of backup stories featuring Wally and a Kid Flash book featuring Bart, but if so, it didn't make it to the finished product.
Jesse Quick's costume gets a slight variation here, which I think is a good move. Kolins draws her with running shorts instead of the leotard that Ethan Van Sciver drew in Flash: Rebirth #6. Admittedly, there's a long tradition of circus-influenced costumes in super-hero designs. (Just look at Max Mercury's collar!) Jesse's outfit is slightly different in the profile page (not pictured here) — her mask is black there, and the neckline is a bit higher as well, even though both are drawn by Kolins.
There's a really awkwardly-placed ad near the end of the story. At the end of one page, Captain Cold pulls back a curtain to reveal… a comic-strip-style Colgate ad, followed by a second page of the Colgate ad, followed by…a giant picture of Robin and Wonder Girl kissing — wait, what's that doing in the old Rogue hide-out? Oh, that's still part of the toothpaste ad!
The final page will probably put off fans of Wally West, as it serves as a reminder (in 2-inch-high letters taking up the entire page) that as far as DC is concerned, "The Flash" has been missing since 1986.
Profile Pages
The second half of the book is made up of profiles covering the following characters (plus two cities and an object):
Flash (Barry Allen)
Iris Allen
Keystone City and Central City
CCPD Crime Lab, including: Darryl Frye, James Forrest, David Singh, Barry Allen, Kristen Kramer
The Speed Force, including Flash/Jay Garrick, Flash/Wally West, Kid Flash/Bart Allen, Max Mercury, Jesse Quick, John Fox, Impulse/Irey West, Jai West
The Cosmic Treadmill
Captain Cold
Heatwave
Mirror Master (Evan McCullogh)
Weather Wizard
Trickster (Axel Walker)
Gorilla Grodd
Abra Kadabra
Doctor Alchemy
Professor Zoom, the Reverse Flash
Captain Boomerang
Yes, it seems that "The Speed Force" is officially a team name, now. Here's hoping I don't get a C&D letter on trademark infringement for this blog. 😀
Most of the characters' write-ups include not just their history, but hints to future stories. For instance, Abra Kadabra is said to have more enemies in other time periods, the Weather Wizard's profile brings up the question of just who the wand was being built for, and John Fox "is lost in time, the reasons unknown." (Fox was last seen comfortably settled in the 853rd Century during DC One Million, in a different costume. Presumably Johns' plans are to use him at an earlier point in his personal timeline.)
A few profile items bothered me as a long-term reader, particularly:
Max Mercury's origins are said to be "shrouded in mystery," even though Mark Waid told his origin during Terminal Velocity and we've seen several stories of his various aliases throughout the last 200 years.
Wally West's special talent with the speed force is generating his costume. Apparently that's more important than the fact that he can lend and steal speed — or maybe Geoff Johns wants to get rid of that ability.
For some reason these changes bother me, but others, like giving Albert Desmond (Dr. Alchemy) a background in the Central City crime lab, or redefining Central City as a town obsessed with speed, don't bother me at all. I think it's because making Desmond a colleague of Barry's is adding something, while erasing Max's origin or dropping Wally's extended powers down the memory hole is removing something.
Of course, new readers won't notice anything odd in the first place.
The profiles are all drawn by either Francis Manapul or Scott Kolins. Manapul takes Barry and Iris and the non-Rogue villains, while Kolins takes the extended speedster family and the Rogues proper. Their art really benefits from the larger canvas made possible by the new layout. Instead of a basic split page with one column for art and one for text, the art takes up the entire page, with the text appearing in floating boxes. On the downside, many pages use multiple boxes for the name, stats, and history, which makes it a little harder to follow, especially on the group pages.
One character's identity and history are blacked out, presumably to avoid spoiling the end of Blackest Night. This might have been a little more useful if this book hadn't shipped two weeks late, since Blackest Night #8 arrived in stores last week. Oh, well!
Overall
Readers new to The Flash, or those who sat out Flash: Rebirth but plan to return, will probably find the book very helpful. The story establishes the current version of the lead character, and the profiles cover the setting, supporting cast, and major established villains.
Readers already familiar with the Flash may be less satisfied. The art is great, especially on the profiles, but there's not much story and very little new information. If you like sifting through, looking for hints about future stories, or if you just want to refer back to the current baseline, it may be worth it.
Share