eBay seller "bflash" is selling a veritable Flash Museum on eBay. In what he has dubbed the World's Largest Flash Collection, he has for sale over 300 rare Flash items, some of which I wasn't aware even existed. bflash breaks it down for us:
When you think about the large Superman, Batman or even Wonder Woman collections and items that are out there, then you consider how few Flash items there are, it's pretty amazing to think that there are over 250 separate and "Flash-only" pieces here and available all at once. This collection has been amassed over 40 years. Each decade and era of the character are represented: 1940's, 50's, 60's, 70's, 80's, 90's and now.
Let's take a look at this massive lot:
*Click on the thumbnail to see a larger image*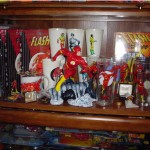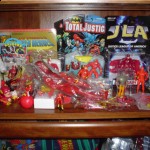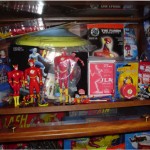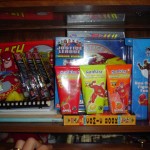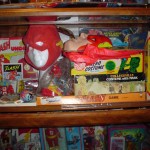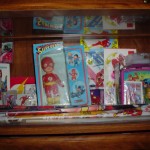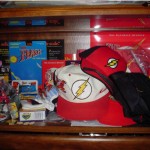 Quite the amazing haul. The Buy It Now price is $12,500.00 and the starting bid is $1,000 with a Reserve in place. When a eBay seller puts a Reserve on an auction it means that the sale item has to reach a certain amount before it can actually be called yours. bflash notes that the Buy It Now price is much less than the reserve, and well worth it:
Along with the expected toys, action figures and posters, there are several "very high value" items included: a 1942 Pinback (excellent), a 1961 Vissari Halloween costume (MIB), a 1946 Wheaties Giveaway Comic (Fine – Very Fine), a 1965 Ben Cooper Halloween Costume (MIB), a 1967 Hasbro Justice League – Flash board game (MINT) and Kenner Super Powers Prototypes and "test shot", just to name a few. Also, in the collection are items from the 1989-91 TV show – scripts, cast and crew items and advertising pieces. These sought-after items more than justify the Buy It Now price.
Personally I have my eye on that Tiger Flash LCD Video Game from the early nineties, but unfortunately he does not sell items individually. The entire collection has to be purchased all at once and the Buy It Now price of 12k does not include shipping, although he does offer Local Pick Up. Glen Antonio had an idea about Flash collectors teaming up to purchase it and divvying up the loot accordingly. Who's down?
There is a complete list of the items on the auction page and a rough youtube video of the collection HERE.
The auction ends in 4 days and 19 hours so that gives us a little time to have a yard sale and take out a second mortgage on the house. I would seriously have to sell every item in my Flash Collection just to afford this and that might not even be enough. If one of you guys ends up buying this, please let me know. I'm desperate for that Tiger Game.
Good Luck bidders and Keep it Flashy,
-Devin "The Flash" Johnson
Share