Part Three of "The Dastardly Deaths of the Rogues" arrives in stores tomorrow.
The Flash #3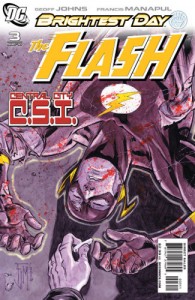 It may be BRIGHTEST DAY, but when a mysterious group of so-called heroes turns up, another Rogue ends up dead. Plus, the mystery deepens as The Flash witnesses another murder — his own!
Written by GEOFF JOHNS · Art and cover by FRANCIS MANAPUL · 1:10 variant cover by GREG HORN.
On sale JUNE 30 (rescheduled) · 32 pg, FC, $2.99 US
DC has a 5-page preview online.
Other Speedy Books
Justice League of America #46 – Start of a JLA/JSA crossover, featuring both Jay Garrick and Jesse Quick…plus a variant cover focusing on Jesse Quick by The Flash artist Francis Manapul.
Justice Society of America #40 featuring Jay Garrick and Liberty Belle.
Teen Titans #84 featuring Kid Flash (Bart Allen)
Velocity #1 – DC isn't the only publisher with speedster heroes. Velocity from Top Cow's Cyberforce gets her own solo miniseries. Newsarama has a preview, and I've written a review of the issue.
Share