Speed Force is proud to present our second edition of Flash Collector Showcase. We are showcasing Flash memorabilia collectors and their collections from all over the world; whether it be comics, toys, t-shirts, collectibles or art. If it's a collection and it's main focus or a large part of it relates to The Flash or his Rogues, this is the place to find it.
To that end all collectors interested in having their collection possibly featured in a future Flash Collector Showcase please send your name, geographic location, a short biography, some background on your collection, and about 3 to 6 pictures to
Devintheflashjohnson@yahoo.com. Please include "Flash Collector Showcase" in the subject line. Also be sure to mention if your collection has received special mentions or any other accolades as well, although this is not a requirement.
Last time we featured Filipino Collector, Glen Antonio. Glen had been on local Filipino TV shows and in several articles before being showcased on Speed Force and we were glad to have him. He has also shared his collections with many Comic and Toy Conventions. You can follow him on Facebook or Twitter to see what he is up to currently.
Now on to our latest collector to be featured, Mike Welch.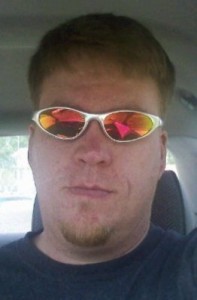 Mike currently lives in Cedar Falls, Iowa, and has been collecting comic books since around 1988. Two years later, around the time the short-lived Flash TV series began, Mike started reading Flash comics. Although the Flash on TV was Barry Allen, the Flash in the comic was Wally West and Mike quickly fell in love with the character. Mike now owns all of Wally's run as The Flash and any related appearances throughout the DC Universe. The Flash Memorabilia collecting wouldn't begin in earnest until around 1998 or so, when the Hasbro JLA Line was in full swing. The line that spawned 5 different versions of The Flash and even an Impulse figure. * picture is from my personal collection*
Like many collectors, Mike's collection includes action figures, statues, clothing, posters, video games and more than just a few super-rare, hard to come by items that he will probably never part with. Among these; A cast jacket from the 1990 Flash TV Series (which he acquired on eBay), The Flash Tiger LCD Game from the early 90s (I've been personally looking for this for years, I was very fond of the Tiger games and only owned one, Mighty Morphin Power Rangers. I played that thing to death.) a copy of the Sega Master System, The Flash video game, and the ultra-rare IDC model from the 1990 Live Action TV Series: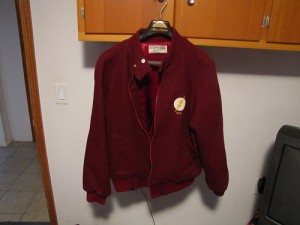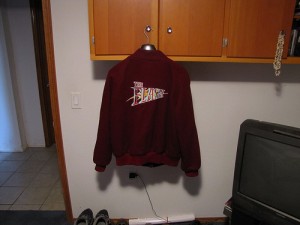 <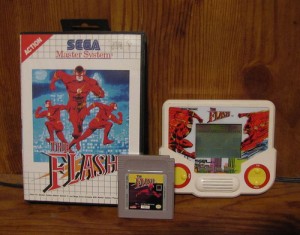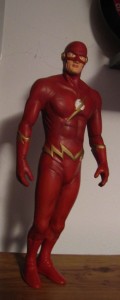 Pretty nice, huh? I think I'm most jealous of the Cast Jacket and the Tiger Game. Mainly because I could have sworn I saw the cast jacket back in my infancy of collecting and passed on it because it was too expensive, and the Tiger Game because I lost it to someone else on eBay back in the prime of my collecting years and have never seen it again since.
But if you thought those were impressive…get a load of this: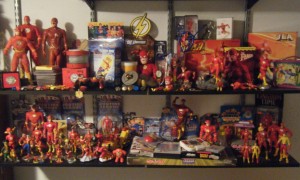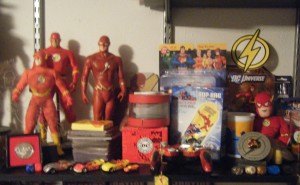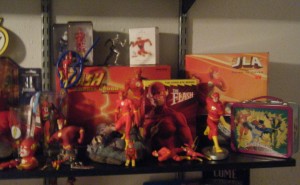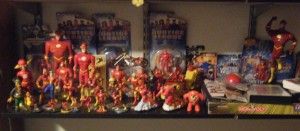 And unlike me, Mike also owns Flash trading cards and several pieces of original art. I myself have never been to a Comic-Con *GASP*, and never really gained an interest in collecting original art as a result. Although I do have that one drawing of The Incredible Hulk that I won from Sal Buscema when he appeared at the local library when I was about 9 or 10. Still these are impressive pieces: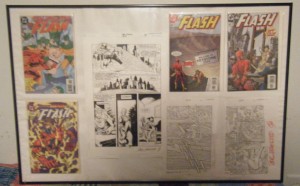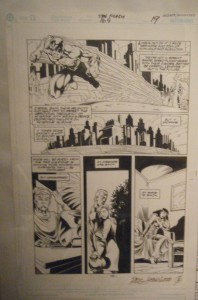 Not the clearest pictures but still very cool.
I mentioned that Mike also collected Flash trading cards. Here are a few from his collection: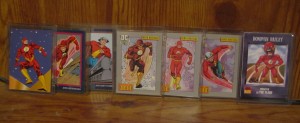 And no collection is complete without Flash Rings: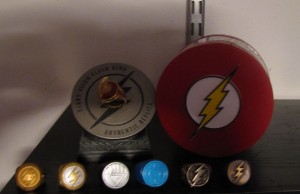 There you have it. This is just a small part of Mike's collection pictured, btw. He still has boxes that he hasn't put on display yet. Definitely looking forward to doing an update featuring the whole thing. Keep an eye out.
Thanks for reading. Keep a look out for more collections to be showcased here on Speed Force in the future. Also remember if you or anyone you know has a Flash collection please drop us a line at
Devintheflashjohnson@yahoo.com. We would love to hear from you. Be sure to include your name, geographic location, a short biography, some background on your collection, and about 3 to 6 pictures.
***UPDATE***
You can see more pictures of Mike's collection at his flickr account HERE.
You can also follow me on Facebook, or Twitter.
Share