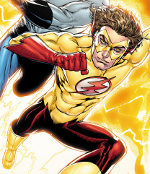 The DC Nation panel at HeroesCon this weekend offered a glimmer of hope to those looking forward to the Kid Flash series originally announced at last year's Comic-Con International and put on hold last December. ComicBloc's trmnlvlctyyy spotted in Newsarama's writeup of the panel that a fan asked about the series, and Franco Aureliani (Tiny Titans) said to "ask him again in August."
In the following thread, Spire2000 notes that another fan asked about more kids' books, and was also told to wait until August.
Neither exchange is mentioned in CBR's coverage.
Could DC be planning a kid-friendly Kid Flash book?
I guess we'll find out in August…
Share