Over at The Source, DC has posted Flash: Rebirth artist Ethan Van Sciver's cover for Justice League of America #50.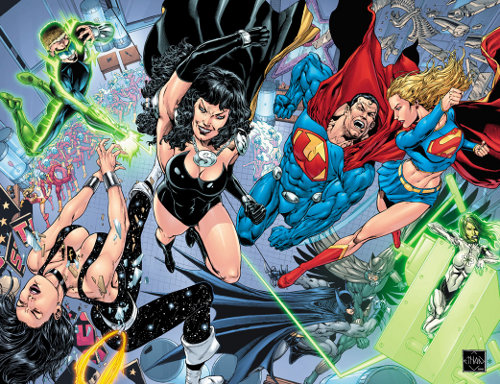 I assume it's either a wraparound or a pair of 50/50 variant covers.
The Donna Troy vs. Superwoman and Supergirl vs. Ultra-Man battles dominate the image, but there's also Power Ring vs. Jade, Batman vs. Owlman, and (way in the background) Jesse Quick vs. Johnny Quick.
Ever since James Robinson mentioned that the JLA would be going up against the Crime Syndicate, I'd wondered which version of the villainous team they'd be facing. The original version? The Crime Society on Earth-3? Between this and Syndicate Rules in the previous series, it looks like the Morrison/Quitely version from JLA: Earth-2 has been established as the primary version of the team, though they have gone back to the Kyle Rayner analog for Power Ring.
Update: Here's a close-up (loosely speaking) of part of the Jesse Quick/Johnny Quick battle.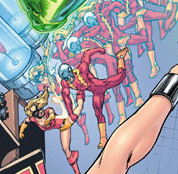 Share