DC has revealed the fourth week of Convergence miniseries, focusing on the pre-Crisis versions of characters from Earth-2, Earth-3, Earth-4, Earth-S and Earth-X. Yep, that means classic Justice Society of America (featuring Jay Garrick) and Infinity, Inc., a Marvel Family book where Captain Marvel (I mean Shazam) really is the world's premiere super-hero, and even an old-school Crime Syndicate (featuring Earth-3 Johnny Quick).
Convergence deals with Braniac's collection of cities from multiple realities, and what happens when he opens the domes and allows them to interact. The main story will be told in a 9-part weekly series in April and May. DC's New 52 line goes on a two-month hiatus, replaced by a zillion two-part miniseries focusing on different characters, including a 2000s-era West family and 1980s Flash.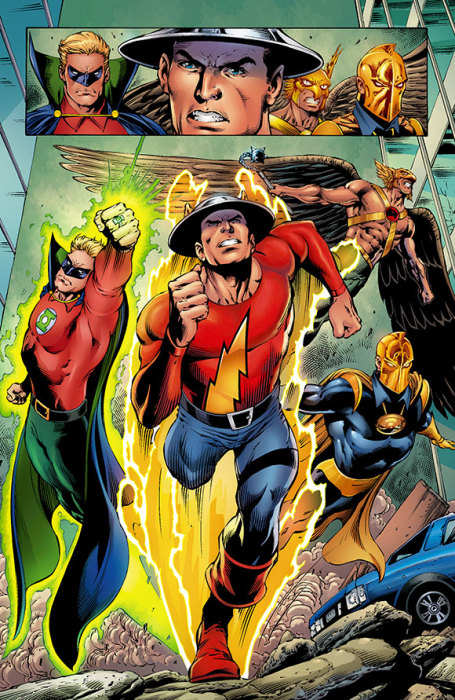 JUSTICE SOCIETY OF AMERICA
Writer: Dan Abnett
Artists: Tom Derenick and Trevor Scott
Colorist: Monica Kubina
Older and in full retirement under the dome, members of the Justice Society get the chance to regain their youths to stave off forces from the Qward Universe. But the promise of youth comes with a deadly price.
Note: Dan Abnett is also writing the Bronze Age Barry Allen miniseries for the event.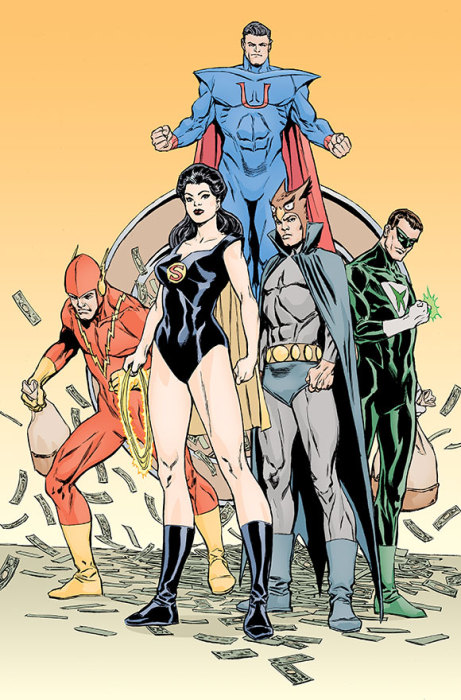 CRIME SYNDICATE
Writer: Brian Buccellato
Artist: Phil Winslade
Colorist: Lovern Kindzierski
The Crime Syndicate's absolute control of their city is challenged when the dome comes down and changes everything. Now, Superwoman is on death row while the rest of the team fights One Million Universe's Batman and Superman!
Note: You'll recognize Brian Buccellato of course as half of the Manapul/Buccellato team from the first two years of the New 52 Flash.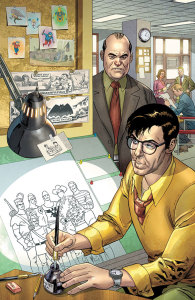 I'm kind of surprised there's no Silver Age week. I guess the nostalgia wave has passed it by. On the other hand, there's also this:
WORLD'S FINEST COMICS
Writer: Paul Levitz
Artists: Jim Fern and Joe Rubinstein with cartoons by Shannon Wheeler
Colorist: Paul Mounts
The Seven Soldiers of Victory regroup to defend their city against the Qward invasion, while cartoonist Scribbly Jibbet transcribes their adventures.
Scribbly was a fictionalized version of Sheldon Mayer, a writer, artist and editor going back to the Golden Age who was involved with launching or editing just about every major DC character on the All-American side of the company including the Flash, and made at least two cameos in All-Flash. Mayer also wrote and drew the semi-autobiographical comic strip Scribbly, the Boy Cartoonist.
Scribbly Jibbet!