DC's full November solicitations are out, featuring two more major Flash appearances in addition to the Flash #8 Reverse-Flash one-shot.
DC Comics Presents: The Flash and Green Lantern: Faster Friends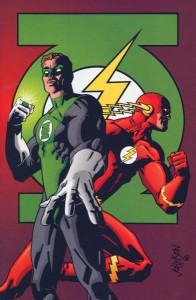 Written by RON MARZ, MARK WAID and BRIAN AUGUSTYN
Art by BART SEARS, VAL SEMEIKS, RON LIM, ANDY SMITH, TOM GRINDBERG, JEFF JOHNSON and others
Cover by DAVE JOHNSON
Collecting the two-part miniseries from 1997 that brought together two Flashes and two Green Lanterns to battle the menace called Alien X in a story that begins in the 1940s and concludes in the modern era!
On sale November 3 • 96 pg, FC, $7.99 US
Notes: This story stars Jay Garrick and Alan Scott in the 1940s, and Wally West and Kyle Rayner in the modern era. Naturally, they've put Hal Jordan on the cover.
Fun Fact: This is the comic book with the polar bear that Walt was reading in the first season of LOST.
Time Masters: Vanishing Point #5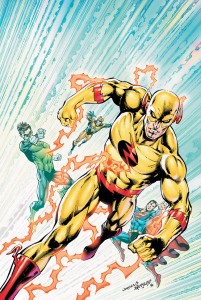 Written by DAN JURGENS
Art and cover by DAN JURGENS & NORM RAPMUND
None of the Time Masters' problems in the time continuum compares with what's in store for them when they cross paths with the Reverse Flash! In fact, nothing will be the same for the entire universe after this fateful meeting!
Don't miss this companion series to the best-selling "Return of Bruce Wayne" storyline!
On sale November 17 • 5 of 6 • 32 pg, FC, $3.99 US
Notes: That Thawne guy sure is going to be busy in November, isn't he? Can you say Flashpoint setup?

Other DC Speedsters
Justice Society of America (with Jay Garrick) picks up the new run by Marc Guggenheim and Scott Kolins.
Justice League of America (with Jesse Quick) battles the Crime Syndicate.
The Teen Titans meet Robin.
DC Comics Presents: Young Justice continues with #2, reprinting The Secret, stories from the Young Justice Secret Files, and Young Justice in No-Man's Land. We seem to be getting the specials reprinted – how long before DC reprints the series itself?
Share