DC has posted artist CAFU's designs for the T.H.U.N.D.E.R. Agents relaunch coming in November, including the team's speedster, Lightning.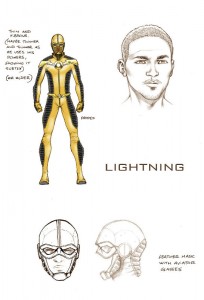 Lightning's past is one readers of the sports page will be familiar with. It's one of failure, self-doubt and, ultimately, redemption – if he can manage to outrace death long enough, that is.

CAFU came up with a number of designs for Lightning's suit, but we ultimately settled on this one as it seemed both the most stylish and the most practical. Zipping around that fast, you're going to need some protection!
As described in previous articles, the premise is that the suits that give the agents their super-powers will also kill them within a year. The agency recruits covert operatives willing to trade their lives for one last shot at redemption.
The article at The Source has four designs, including Dynamo, NoMan, and Menthor in addition to Lightning.
Also worth a look: Newsarama's article on the history of the team, back to their 1965 debut at Tower Comics.
Share