I don't know how I missed this one the first time around, but Comics Alliance has posted a round-up of Chris Sims and Rusty Shackles' Great Comics That Never Happened series – covers featuring bizarre team-ups like the Justice League and the Wu-Tang Clan, or the League of Extraordinary Gentlemen featuring 1980s icons like Mr. T, Doc Brown and MacGuyver, or Hannah Zatanna, torn between the worlds of superheroes and magic…or this one: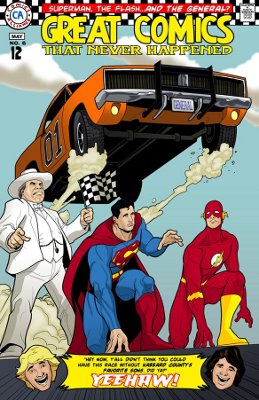 When Boss Hogg sets up a phony charity designed to funnel contributions from well-meaning citizens into his own pockets, Superman and the Flash are roped into holding a charity race across Hazzard County–without super-powers! But when Bo and Luke Duke, a couple of good ol' boys who never mean no harm crash the race, can the two Fastest Men Alive outrun a souped-up Dodge Charger before it hits the county line? Find out in this exciting issue! Also featured: Lois Lane discovers a Hazzard County fashion statement sure to catch Clark Kent's eye and a two-page backup story where Jimmy Olsen and Kid Flash meet Coy and Vance!"
Click through to the original article for a full-sized cover, as well as a dozen more team-ups that never were!
Share