For those of you that haven't heard, Mattel is planning on re-releasing a number of sold out items that had been offered previously through their online collector store, Mattycollector.com, in an online sale, dubbed "Cyber Monday".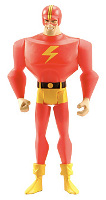 More after the break
Of the items announced so far only one seems to feature anything related to The Flash. That would be The Justice Guild 4-Pack showcasing the Guild's resident speedster, The Streak featured in the Justice League episode "Legends". The Streak is packaged with three other members of the Guild;  Black Siren, Green Guardsman and Tom Turbine. The set was previously offered on Matty months ago and has been featured in a couple of articles here on Speed Force that you can check out here and here.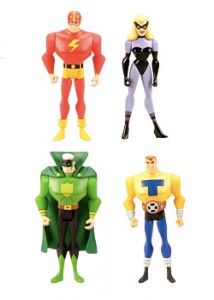 This is just one of the many items that Matty will be offering on Cyber Monday. For a complete list of everything that will be available to date click here.
Sale Starts: Monday November 29th at 9 AM PT
Sale Ends: Sunday, December 5th at 11:59 PM PT
Extra Savings Day: Monday November 29th ONLY save 10% off every order over $100 (excluding taxes and fees)
Overall I was pretty pleased with The Streak's action figure and it will tide me over until Mattel releases an official JLU version of Jay Garrick (I know he wasn't featured on JL or JLU but a figure has been rumored to be in production) speaking of which: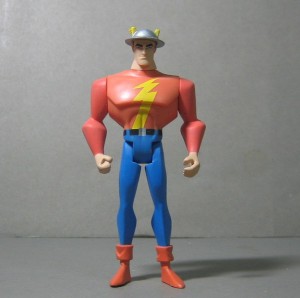 Justice League Unlimited Jay Garrick has been spotted on Ebay and he looks awesome. I'll be counting the days until I get this figure. Unfortunately I still need to get Barry too.
Do any of you plan on picking up The Streak or any of the items being offered again through Cyber Monday? What do you think of Jay Garrick in JLU form?
Thanks for reading,
Share