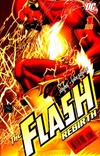 Yeah, I know the joke's been done to death, but you can now get the first issue of The Flash: Rebirth through ComiXology and view (the) Flash on the iPad.
As I understand it, the way DC has approached its digital comics is to start a series at a certain point, then release a new issue each month, keeping the back catalog available.
Curiously, it's listed as issue #1 of 5 (the series was extended to six issues early on), suggesting that DC is simply reusing the original solicitation text. That's just fine in most cases, but things do change occasionally.
(Spotted by 3 Million Years.)
Share