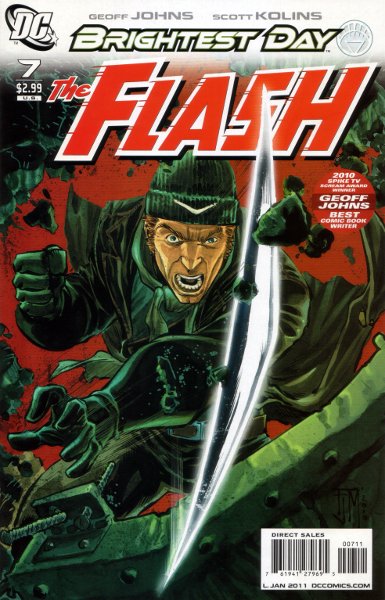 Those unfamiliar with the Rogue Profiles from Geoff Johns' previous Flash run might dismiss a whole issue focusing on Captain Boomerang as filler. And while it's true that this issue and the next were added to the schedule to get the main story back on time, it feels like an integral part of the mythos (if a bit more related to Brightest Day than to the story building to Flashpoint), and leads directly into next week's issue's profile of Professor Zoom.
Like the earlier profiles, this issue follows the featured villain as he goes about his business and thinks back about what made him the criminal he is today. It serves both as an origin story for new readers and a way for the writer to explore just what makes him tick. In this case, it doesn't add anything really new to his background, but rather collects and crystallizes the key elements that have been established over time: a troubled family life (what Rogue didn't have that?), coming to the States as a toy mascot, and then embarking on his life of crime.

I've raved before about how well Scott Kolins' art is suited to the ruggedness of the Flash's Rogues Gallery, and that remains true here. Yet his art is transformed by Brian Buccellato's painted-looking colors, making it blend perfectly with Francis Manapul's work and revealing just how much of the look of this series is due to his contribution.
10-year Flash veterans will appreciate some of the references to Geoff Johns' run on Wally West's series: the presence of Girder, for instance, or the fact that the prison transport is run by the Cage Factory. Not to mention Scott Kolins' art!
Silver-Age and Bronze-Age Flash fans might wonder about the retcon in which Digger Harkness' patron, toymaker W.W. Wiggins, was also his biological father, but that goes back 20 years to Suicide Squad #44 (1990) by John Ostrander and David M. DeVries. It's an earlier retelling of Digger's origin, and could be considered the first Rogue Profile. Edit: While the revelation was established quite a while ago, I think Digger's reaction in this issue is new.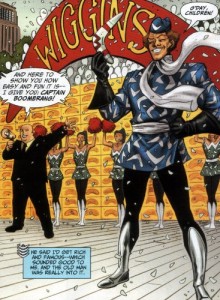 Everyone will appreciate knowing just why this Captain's original costume was so goofy: it was designed to sell toys. (It occurs to me that Captain Boomerang and the Trickster are the only Flash villains whose garish costumes have a reason to look so gaudy. In the Trickster's case, it's because he was an acrobat.)
I was surprised that this only took up two-thirds of the issue, though, with the last third serving mainly to remind us that Professor Zoom is an egotistical sadist (though it is interesting to compare his attitude with Boomer's pragmatic one). Considering we've got an entire issue focusing on the Reverse Flash in a few weeks, I think I would have preferred a little more about the lead character. How he ended up involved with Bart Allen's mother, for instance, and how Owen came back to the present day.
On the other hand, this series has been very focused on streamlining the storytelling: It's not important for now that Boomerang has a son, so it doesn't get mentioned. It's not important for now that he's died and returned to life twice (first in Underworld Unleashed and Hell to Pay, then in Identity Crisis and Blackest Night), only the second time, so that's the only time that gets mentioned.
Conclusion: Great artwork and a good done-in-one story that still ties to the overall series arc.
The Flash #7: "What Goes Around, Comes Around"
Written by Geoff Johns
Art by Scott Kolins
Colors by Brian Buccellato
Share