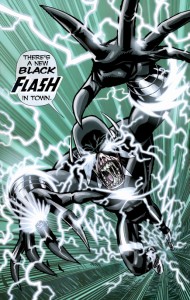 Hey Speed Readers, Devin here again with another edition of Recent Acquisitions. Now I mentioned last week that I was going to start showcasing older pieces from my collection in a new series of articles tentatively named "Off The Shelf". Now while I may still do something with that idea down the line I've recently discovered a more attractive avenue for showcasing my collection: Tumblr! I plan on posting quite often, and since I don't have to write up a whole article every time I post you can expect to see posts a lot more frequently. Yesterday I posted four different pictures, including a custom Flash Football Jersey. You can view my Tumblr at Fastestfanalive.tumblr.com and if you already follow my Twitter you can get updates on the fly without having to sign up. My Facebook friends can also receive updates through the news feed for the time being but I'm thinking of disabling that feature as it can probably get annoying getting 4 or 5 different posts a day. Twitter just seems more conducive to that kind of posting.  Now onto the toys!
You may notice that the title of this edition is "In Blackest Night" and yes I know the crossover is long over but the toys keep coming. In fact I just received the latest offering from DC Direct in the mail today. First up though is going to be a guy that I received a week or so ago, DC Direct's Blue Lantern Flash: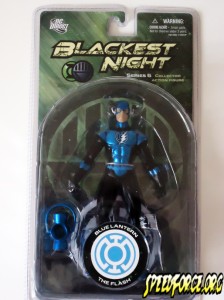 Blue Lantern Barry before his release from his plastic prison.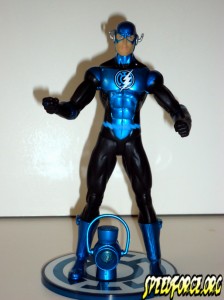 Barry comes with a Blue Lantern and a Blue Lantern display stand. The sculpt is nearly perfect. I would have to say this guy is tied with Justice League of America Series 1 Wally West also by DC Direct as one of my favorites.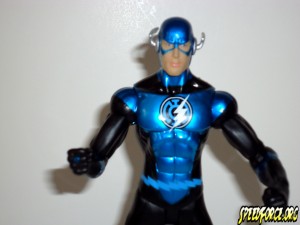 Close up of the messenger of hope! Love the colors and the paint apps for the most part. There is a slight issue with the lightning on each of the forearms but it isn't noticeable unless you are really looking for it. I really dig this figure and the Blue Lantern Flash uniform in general. Although I mentioned being burned out on Blue Lantern Barry I'm still anxious to see how the DC Universe Classics version is going to look.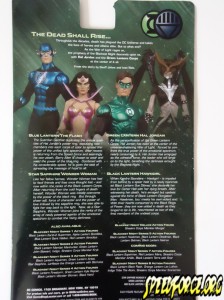 Next we have Barry's miniature counterpart the Blue Lantern Barry Heroclix: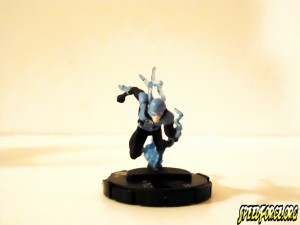 Not bad. These pictures honestly don't do this heroclix justice. The details are especially clean for such a small figure.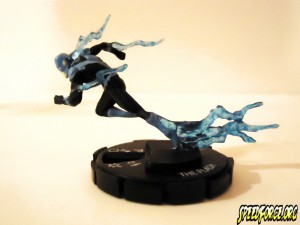 The clear blue plastic simulates the blue lighting effect and adds a little flavor to the piece.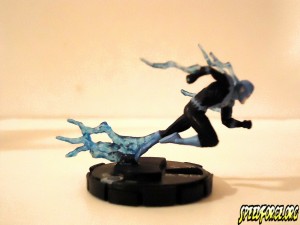 And as promised via my Tumblr and Twitter earlier today, Black Lantern Black Flash: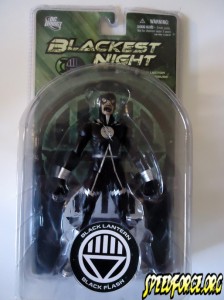 Mint on card.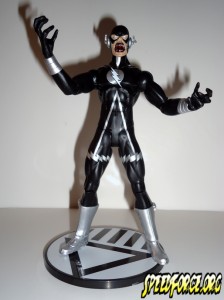 Eobard Thawne of Earth. Rise. Another great sculpt!
Great details on our reanimated friend here. Funny though with his teeth like that and his exaggerated features here and in the comic he kind of reminds me of Flash crossed with Venom. Flash and Spider-Man would be a fun crossover come to think of it.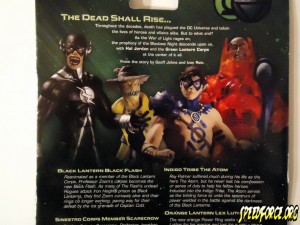 All three together: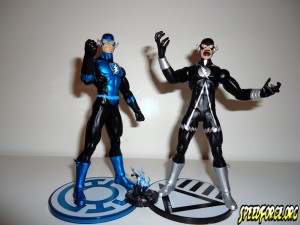 And that concludes another edition of Recent Acquisitions. I'm still holding out for a Black Lantern Bart Allen but it looks like the focus is going to be shifting to Flashpoint fairly soon. I can live with that. Flashpoint has lit a fire in me that I haven't felt in a while. I'm really excited to see what the future holds for the Flash franchise.
Thanks for reading,
Share