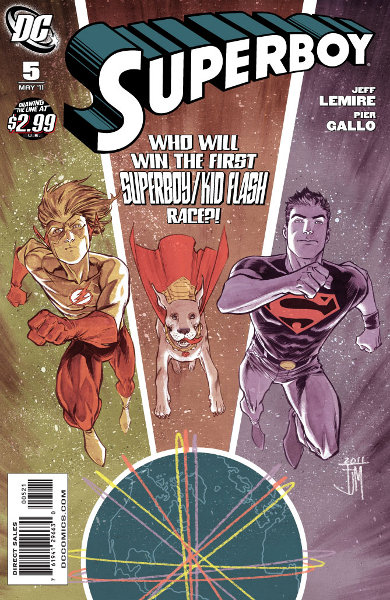 DC has released a preview of next week's Superboy #5, featuring a race between the Boy of Steel and Kid Flash. And check out that variant cover by Francis Manapul!
Get ready for the first-ever Superboy/Kid Flash race! Bart Allen may have the speed, but Conner Kent has the power – who will win?! Meanwhile, a dangerous threat is nipping at their heels, one that may mean the end for Superboy, Kid Flash and all of Smallville!

Written by JEFF LEMIRE; Art by PIER GALLO; Cover by EDDY BARROWS & J.P. MAYER; 1:10 Variant cover by FRANCIS MANAPUL
Manapul has a double connection to this book: Before taking over as the regular artist on The Flash, he also teamed with Geoff Johns for a short run on Adventure Comics starring Superboy.
You can read the preview at The Source or at Comic Book Resources.
Share