It seems like just last week that Kid Flash and Superboy raced against each other…oh, wait — it was! Now Superman and the Flash get in on the action.
Superman #709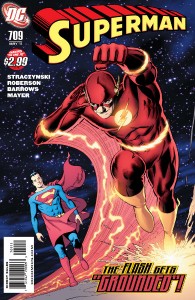 Written by J. MICHAEL STRACZYNSKI & CHRIS ROBERSON; Art by EDDY BARROWS & J.P. MAYER; Cover by JOHN CASSADAY; 1:10 Variant cover by KENNETH ROCAFORT
Superman visits Boulder, Colorado, as "Grounded" races forward! And speaking of racing, here comes The Flash! The Scarlet Speedster has made a strange discovery that relates to Superman, so he tracks The Man of Steel down in the Centennial State to get some answers! What did Flash discover? Well, let's just say there's a reason Superman isn't very happy to see him…
DC has a one-page preview at The Source. And speaking of Kenneth Rocafort, the concluding issue of Velocity is currently on Top Cow's calendar for March 30.
Share