DC Comics' official blog, The Source announced earlier this morning that an exclusive White Lantern Flash action figure will be sold this weekend at C2E2 and later at WonderCon. Distributed by popular pop culture t-shirt company, Graphitti Designs and limited to 1000 pieces, this is sure to be a big collector's item one day. Of course we fans have actually known about the figure for quite sometime but this is the first official statement and pictures regarding it. Take a look: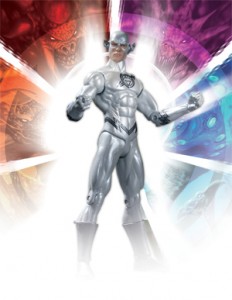 They chose the smallest picture ever to show off the figure on the site here is a slightly clearer one courtesy of AFI: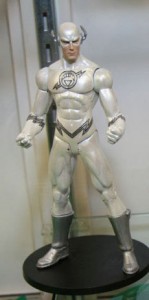 I don't fully get the whole White Lantern thing as I have not been following Brightest Day at all really, but not a bad figure. It is obviously a repaint of the DC Direct Blue Lantern Flash released a bit ago and that is not a bad thing at all. In fact that figure is probably one of the best sculpted DC Direct Flash figures in years, so I have no problem with them reusing it.
The design elements of the costume itself are pretty interesting, especially the choice of Wally's belt instead of Barry's classic straight across design. I don't particularly like when they mix and match elements of Wally and Barry (as in the case of Young Justice's Flash) but it definitely works better for the overall look. I can't wait to see this figure up close and personal though, I have a feeling that the pictures don't do the piece justice.
Oddly enough, DC left out the information about pricing. I believe it will be going for around 18 dollars or so. Availability of the exclusive will be limited to one item per guest. A number of websites and sellers on evilBay are offering preorders for the item for those that can't make it out to the Cons. The prices however range from as low as 16.99 on some websites to as high as 70 dollars on evilBay.
Does anyone else plan on picking up White Lantern Flash?
Thanks for reading,
Share