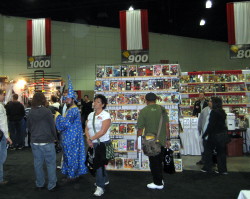 So, Wizard has just announced the return of Wizard World Los Angeles Comic Con in September, stating that they're filling "a real need for a Fall event that encompasses all the best that pop culture has to offer."
The thing is, we've already got a Wizard con in the area (Anaheim Comic Con, running this weekend), and we've already got a fall convention of about the same size (Long Beach Comic Con in October). The three convention centers are all within 30 miles of each other, so they're going to draw from the same pool of attendees, and the same pool of comics guests. And since Wizard is big on trying to present a uniform experience for all of their cons, we can expect Anaheim and Los Angeles to be basically the same.
I can only think of two reasons for Wizard to add Los Angeles at this time:
They're planning to move back to the more well-known location after moving out to Anaheim last year. Is anyone here at Anaheim right now? Can you tell me whether they've announced dates for next year?
In keeping with past Wizard convention behavior, they're trying to muscle out Long Beach for daring to step in and put together a successful convention from scratch (and one that actually focuses on the "Comic" part of "Comic Con") when Wizard canceled WWLA 2009.
Share