Alright fellow Speed Readers. As promised pictures of our very own Digger Harkness, better known as Captain Boomerang: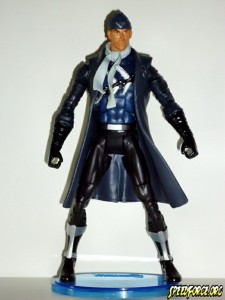 More pictures after the jump.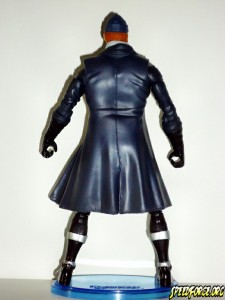 This is the good captain's first and only full size action figure and Mattel for the most part hit it out of the park. Fortunately Boomer had a bit of a style update in the last couple of years courtesy of Geoff Johns and Co. so we have a hipper more stylish Digger than we're used to. The figure isn't the most dynamic but just about everything has been done so well that there really isn't any need for anything more. The head sculpt is completely spot on and even has a bit of a cocky smirk going on there. The amount of detail put into the stubble alone makes this piece one of Mattel's finest I've seen in a bit.
Boomer's jacket sleeves and scarf are molded into the figure, but the jacket is made of a super pliable rubber that isn't the least bit as restrictive as it looks when it comes to articulation. The bandolier is molded onto the jacket along with a few boomerangs that are unfortunately not removable. In fact Boomer only comes with one very flimsy boomerang, so naturally Boomer stole a few from his formerly estranged (now dead) son, Owen Mercer. Owen was released a few years back by DC Direct in the Identity Crisis series of figures and was also extremely well made. He came with six or seven different boomerangs that actually fit into his jacket when they weren't in use. I really wish Mattel had gone that route with the bandolier or at least just included a couple more sturdier boomerangs than the one they did but I guess I could see where cost could be a factor. It is like they used the cheapest plastic possible (which is probably true).  Some pics of father and son: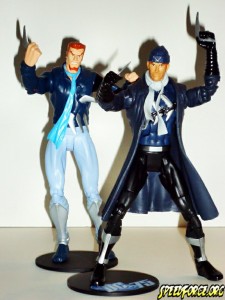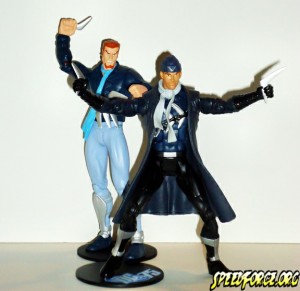 The figures look perfect together. A true testament to the Four Horsemen's designs and how far Mattel has come with their articulation work and hiding it well. Now for some more comparison pics, first one up is Captain Cold and Captain Boomerang: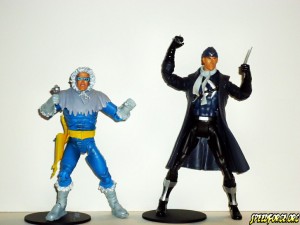 When Captain Cold was released alongside Barry Flash and Wally Kid Flash way back in DC Universe Classics Wave 7 there were a good amount of complaints concerning the size of Captain Cold. Similar to what happened with the release of Sinestro the molds somehow shrunk in production and produced these slightly smaller in stature figures. Now I'm not sure exactly how tall Digger is in relation to Len in the comics (Lia?) but I always got the feeling they were around the same height. It isn't terribly noticeable but it could be a problem for people who like the scales to match up properly.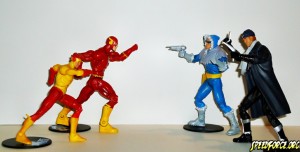 Boomer and Cold facing off against Flash and Kid Flash.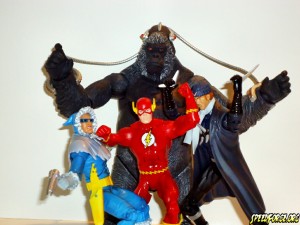 All three Flash rogues released in the DC Universe Classics Line thus far, Collect and Connect Gorilla Grodd, Captain Cold and Captain Boomerang flanking Barry Allen, The Flash.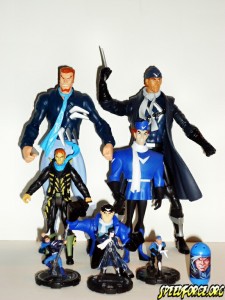 I am in awe of all the Captain Boomerang collectibles released in the last few years. If you count Digger and Owen as one (which you might as well because I'm fairly certain Owen will be ceasing to have ever existed coming September) the only other Flash villains that can claim as many collectibles are Grodd, Cold and Professor Zoom.
Speaking of which, for those who aren't aware Eaglemoss, the company that creates the DC collectible lead statues, will be making a Captain Boomerang to join Captain Cold, Gorilla Grodd and Professor Zoom: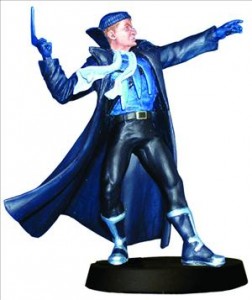 Not too shabby for a former toy mascot from the bush. Not too shabby at all.
Thanks for reading,
Share