Hey Speed Readers,
As you should surely be aware of by now the biggest comic book convention of the year, San Diego Comic Con 2011 is well under way and there are some exciting announcements concerning Flash collectibles.
DC Direct has already announced a wave of action figures based on the upcoming DC Universe reboot. The Flash is one of the figures further along in development and Toynewsi had some awesome pictures and news from the DC Direct booth: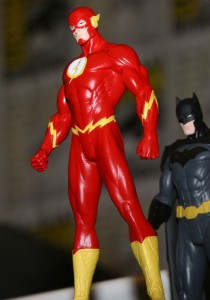 This figure will be part of a line of action figures based on the new Justice League designed by comic book legend and DC Co-publisher, Jim Lee. The first two waves will be focusing on Superman and Batman respectively and subsequent waves will feature Flash and the rest of the League. I'm not sure exactly what this means though; Will they be complete waves with every character released in the wave relating to Batman or Superman or will it be something where they just release a figure a wave? If it is the former this brings up some interesting possibilities especially when The Flash wave rolls around. Will there be hope for additional figures from The Flash's new series? Anyone have any clarification on this? I'm getting pretty excited just thinking about it.
I am still not a huge fan of the costume but it is growing on me. Not that it is super ugly, just certain aspects of it bug me. This does look like it could possibly be one of those figures that is going to look a lot better in person, I'm hoping this is the case. I personally am excited for anything Flashy so I still can't wait to pick this up although it is going to be a while before we see this guy released. I'm very happy to see DC Direct back in the swing of things by the way. A few months back there were rumors circulating that DC Direct was scaling back on action figures and focusing more on statues and props so I'm very pleased to see them continuing their work.
In addition to this announcement we will also be getting a Flash action figure based on the MMORPG (Massively Multiplayer Online Role-Playing Game), DC Universe Online character designs.
We also were given a great look at Flashpoint Series 1 The Flash and the San Diego Comic Con 2011 Exclusive Professor Zoom Action Figures. The figures look phenomenal out of the box. Apparently Flashpoint artist, Andy Kubert had a great deal to do with the sculpts and worked closely with DC Direct on the designs for these figures. These are both must haves: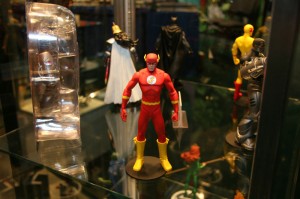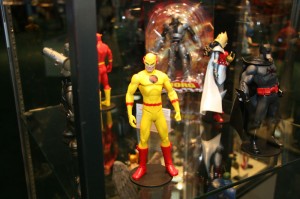 I've mentioned many times in the past how big a fan I am of artist that don't make characters like the Flash super muscular and on that same note I'm usually not the biggest fan of artist specific action figure sculpts (as in the case of Ed McGuiness' overly bulky JLA Classified releases from a few years back). Andy has struck that perfect balance to me. Not only is the art great but it translates into a fantastic action figure. Just look at the face sculpts (especially on Thawne) and the awesome details like the sculpted boots. I can't wait to have these both in hand.
For those that forgot Professor Zoom is a San Diego Comic Con 2011 DC Direct and Graphitti Designs Exclusive and went on sale yesterday at the con. It is not yet known if he will be available in any capacity after the show, but cross your fingers; Graphitti Designs did put White Lantern Flash up on their website eventually, so this may be a similar situation and we may just have to be patient.
Flashpoint Series 1 Flash won't be released until the 10th of August so we still have a little bit to wait until he shows up. Suffice it to say I can't wait for either one. Great looking figures.
In other toy news Mattel announced a Flash and Professor Zoom DC Action League Two Pack: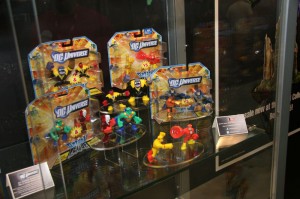 Professor Thawne looks to be based on the previous Flash Action League release from earlier this year released along with Captain Boomerang. The Flash as far as I know is a brand new sculpt complete with a neat snap-on whirlwind accessory. *Thanks to Ken of Fingmonkey.com for the tip*
So the first day of SDCC 2011 and we already have some awesome Flash collectible news. I'm crossing my fingers for more exciting news but unfortunately I think we might be done as far as big releases go. Still some great stuff to look forward to in the coming year. What do you all think about the announcements and upcoming collectibles? Let us know!
Thanks for reading,
Share