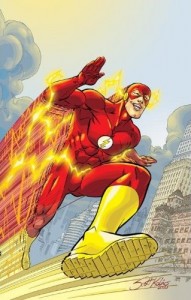 I missed it in the build-up to Comic-Con, but Collected Editions's latest post on upcoming DC collections includes a sighting of The Flash Omnibus by Geoff Johns Vol. 2 with an April 2012 release date. The current placeholder cover is from Flash #200 (the end of Blitz), but the site speculates that it will likely cover "Rogues" and "Crossfire," roughly The Flash v.2 #177-191. If the listed page count of 648 is accurate (and not also a placeholder), the hardcover could easily run through "Blitz."
The first volume clocked in at 448 pages and included Flash v.2 #164-176 plus Iron Heights, the Flash tie-in for Our Worlds At War and Flash Secret Files #3.
I've been speculating that the series of massive hardcovers would take three or four volumes to cover Geoff Johns' run on Wally West's series, then one more for Flash: Rebirth, Blackest Night: The Flash, Flash Secret Files 2010 and Flash vol.3, which should all fit in a roughly 500-page volume.
Share