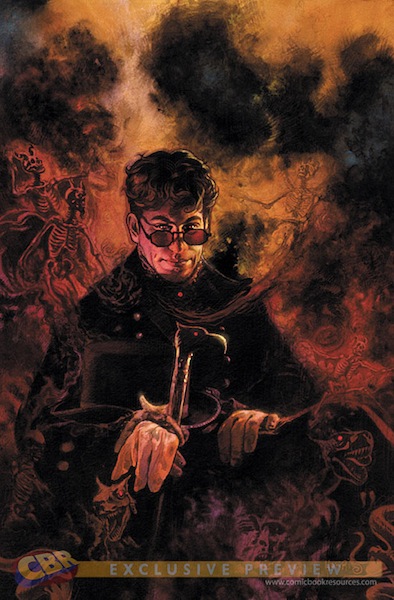 DC has started releasing information about its October comics this week, including several miniseries launching in the second month of the DC relaunch. Among them: James Robinson's 12-issue miniseries featuring The Shade, as reported by CBR.
The Shade is probably more associated with Starman these days, but he started life as a Golden-Age Flash villain, one of the trio whose place in DC history was later secured by appearing in Flash of Two Worlds.
Even though he only made one appearance in the Golden Age (as compared to the many tines Jay Garrick fought the Thinker or Fiddler), the Shade is the oldest Flash villain to survive it. The only older themed/named villain, the Threat (All-Flash #2), was a one-off who died in his first appearance and never returned.
THE SHADE #1
Written by JAMES ROBINSON
Art by CULLY HAMNER
Cover by TONY HARRIS
1:10 Variant cover by CULLY HAMNER
On sale OCTOBER 12 * 1 of 12, 32 pg, FC, $2.99 US * RATED T+
James Robinson returns to the world of his acclaimed STARMAN series with a new 12-issue series starring the antihero known as The Shade! An attack at the Starman museum kicks off a globe-hopping, centuries spanning quest that will irrevocably change The Shade's life, and ultimately shed light on his true origin! Artist extraordinaire Cully Hamner (RED) kicks off the series, and upcoming issues will feature art by such luminaries as Darwyn Cooke, Javier Pulido, Jill Thompson, Frazer Irving and Gene Ha!
UPDATE: CBR interviews Robinson about the series.
Share