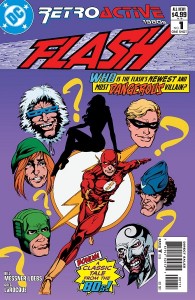 DC has posted a preview of the DC Retroactive Flash: 1980s, arriving in stores on Wednesday.
Central City is filled with villains cleverly trying to stay under the radar of The Flash. So then why is one of them doing everything in her power to attract his attention? And when an obsessed fan gets out of hand, Wally West must follow an unlikely trail of victims to his latest challenge: a gallery of his most notorious Rogues.
What becomes of this super-fan will shock you in an all-new story from writer William Messner-Loebs and art by Greg Larocque. DC RETROACTIVE: THE FLASH-THE 80s also includes a 22-page classic story originally published in the '80s by Messner-Loebs, Larocque and Tim Dizon. Pick up this one-shot in stores on Wednesday.
Share