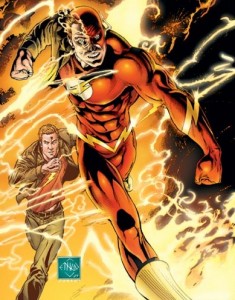 Today's guest post is by Shawn Coots, a.k.a. @BitterWallyWest.
I don't need to tell you what an amazing character Wally West is. If you're reading this article, I assume that you, too, witnessed the most organic evolution of a comic-book character first-hand. Thanks to Mike Baron, Bill Messner-Loebs, Mark Waid, Geoff Johns and several others, we have 247 issues of an amazing book that I'll always cherish. You've read the news by now; those days are gone. So, what are WE going to do about it?
I attended a DC panel at SDCC this year, asking the question so many others have asked before. Where is Wally West? Between @speedstersite and myself, we finally solicited the painful answer. Wally has been shelved indefinitely, in order to make the character of Barry Allen unique. Here's the part of the story where I'll avoid pointing out the many contradictions behind this strategy and simply say, there are no bad characters, only bad (or limited) writing decisions.
Unfortunately, the rampant fanboy-ism of posting long-winded and bitchy complaints on message boards solves nothing. As fans, we don't own or curate these characters, DC Comics does. I can't stress this enough. So how do we get what we want (which is Wally West in his own series, by the way)? I'm getting there.
After Infinite Crisis, DC promoted Bart Allen to his own Flash book, while Wally and family disappeared. This was a terrible decision for many reasons. The writers of the initial arc had little regard for continuity or established character traits. DC canceled it after 13 issues, returning Wally to the title, even bringing back Mark Waid. Rumor has it that the editors stressed that Flash be a family oriented book, thus alienating fans who were clamoring for Wally to return. In my opinion, Mark got the shaft, which is a shame, since he's done so much amazing work for DC.
It was clear that the title was merely in a holding pattern until Geoff Johns and Ethan Van Sciver could get started on Flash:Rebirth. Once it did arrive, I was very excited by the idea of a large Flash family. Unfortunately, the series didn't live up to many people's expectations. The following Barry-Flash title appeared to be one big build up for a summer event, leaving the Flash family to just a few cameo appearances. I also feel it failed to make most of us care about Barry as the Flash. Just being honest, but to each their own.
Where Do We Go From Here?
Now we know what fate has befallen Jay and Wally. Let us examine the five stages of loss/grief. Yes, I'm going to go there.
Stage 1: Denial & Isolation
For months we were assured (or blindly hoping) that DC would eventually announce a Speed Force title. They hinted at it several times, as well as promised that we'd eventually see the scrapped Wally backup stories. I went through a period where I didn't read the news sites in order to not be let down. I'm glad DC has finally stopped denying it, but it doesn't make it easier to accept.
Stage 2: Anger
After months of my favorite character being gone, I started a fake twitter profile (@BitterWallyWest) in order to have a bit of fun. I wanted to write sarcastic jokes in the voice of the character, similar to @God_Damn_Batman and the like. The account was never meant to ruffle any feathers, only make people laugh. It's certainly not meant to be taken seriously, and I've met a lot of like-minded friends with it. I only let my anger out at the DC panel at SDCC. That anger was pointless and did nothing to get my point across. So, no more anger or bitterness, whatever happens, both are hollow emotions with horrible repercussions.
Stage 3: Bargaining
I'll make you a deal. You probably want Wally back in action as much as I do, so I'm going to help. I've created an online petition at this address:
Petition: Create a new Flash series featuring Wally West and other speedster characters.
I'm not sure how much DC is willing to pay attention, but attract enough people and surely they'll notice. If you read this article, share the link with everyone you know, and post it wherever you can, along with the petition. Spread the word far and wide as fast as possible! By signing it, we can show DC how much interest there is, how much money is on the table waiting to be made. This is still a business and it's smart to remember that.
I'm not going to stop there. I'm also asking that you give the new Flash series a try. Pick it up. Get your friends to buy it. Some would say we should call a boycott. Hurt their wallet and then they'll listen. That's ludicrous. DC isn't going to add a second Flash series if the first one isn't selling. You know the art will be amazing! Besides that, Brian Buccellato and Francis Manapul are really awesome guys who just want to tell a good story. Let's give them more characters to do that.
Stage 4 & 5: Depression & Acceptance
I'm skipping these two because I have faith in you. We don't have to accept our character is gone. Comics are ever-changing and evolving. Eventually, Wally will be back, and the sooner the better. So let your voice be heard! Shout from the rooftops that you'd like to read new adventures with Wally in them. I'd even volunteer to write it (I've plotted the first twelve issues already)! I, for one, am not interested in being depressed. There are much larger problems in the world, but I'd like to try to solve this one, with your help. I'm passionate about this because DC published something that made me feel that strongly. I know they can do it again.
If I may back-track a moment, I'm not opposed to Barry Allen being the Flash, the main one, even. I was excited when he came back. At the time, I was lucky enough to encounter Geoff Johns himself after a convention, where he assured me that the Flash universe would be one happy, ever-expanding family.
Well, Geoff (and DC editorial), myself and several others are still waiting…
With utmost sincerity,
Shawn Coots
Share