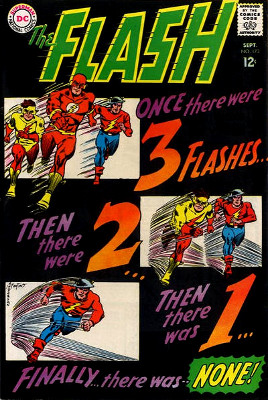 I understand DC's decision to pick a single Flash. They want to make a fresh start (sort of — more about that in part 2). They don't want incoming readers to be intimidated by 70 years of history. And they want a world in which super-heroes have only been around for a few years. But there's value in the legacy concept, and I'd argue that it's helped The Flash and its readership.
Crisis Management
We Flash fans have been extremely lucky. From 1940 to 2005 we've had three great versions of the character. We've had solid, long-running creative teams. Gardner Fox wrote most of the Golden Age and half the Silver Age. John Broome wrote the rest of it, with Robert Kanigher straddling the two eras. Cary Bates authored the entire Bronze Age, and I'd wager that nearly everyone reading this has experienced the incredible Flash runs by Mark Waid and Geoff Johns in the 1990s and early 2000s. We've had amazing artists like Joe Kubert, Carmine Infantino, and Mike Wieringo, and more recently Francis Manapul.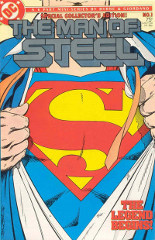 And unlike fans of Superman or Wonder Woman, we've never had to deal with DC outright erasing the stories we know and love. Because Barry Allen and Jay Garrick were different characters, DC was able to build a shared history in Crisis on Infinite Earths, and because they had promoted Wally West to the lead spot, they could start at the beginning of a hero's (solo) career, again without wiping out what had gone before.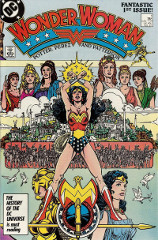 In an era in which Wonder Woman was eliminated from history, reimagined, and re-introduced as a new character, the entire history of the Flash from Earth-Two and Earth-One remained standing. The only stories that had no place in the new, post-Crisis universe were those that specifically involved dimension travel. Even then, it wasn't long before the classic "Flash of Two Worlds" was re-imagined with Jay Garrick and Barry Allen teaming up in the same world.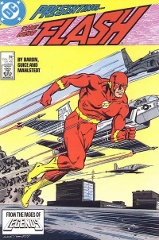 Not only were each era's stories preserved, but more importantly, there was never a sense that any of the characters was inferior to the others. Barry Allen's stories respected Jay Garrick. Wally West's stories always respected Barry Allen. Any time a newer Flash was shown as being "better" than a previous Flash, it was in the way that today's record-breaking athlete is "better" than yesterday's: Barry Allen discovering ways to travel across dimensions or through time didn't diminish Jay Garrick's accomplishments in his prime. Wally West discovering the speed force and new ways to manipulate it didn't diminish Barry Allen's achievements in his prime. And none of Wally's accomplishments precluded the next Flash from one day surpassing him.
Because "The Flash" had become a mantle to be passed from one generation to the next, it was possible to start fresh without wiping out what had gone before.
Breakdown
This run of luck ended in 2006, when DC bungled the transition from Wally West to Bart Allen.
I still believe that Bart as the Flash could have worked if they'd done things a little bit differently. If they'd just…
Put writers on the book who knew how to write for comic books, instead of a team that knew TV, but was learning comics on the job. (They were getting better issue by issue, but it wasn't fast enough.)
Told the first story in half the time, instead of taking 6 issues to go from mopey emo-Bart to the new status quo.
Told us where Wally was right off the bat instead of dragging it out for six months, then revealing that he was in an alternate universe that had been created during Infinite Crisis and probably destroyed by the end of the event.
Focused on the strengths of Bart Allen as a character, instead of trying to shoehorn him into a mold that he didn't fit.
Marc Guggenheim was brought onboard 9 issues in with an assignment to do two things: (1) Build up Bart Allen as a hero that people will miss. (2) Kill him. He succeeded at both. Imagine what could have happened if DC hadn't given him the second goal!
In any case, it didn't catch on, and the fans rebelled. I've been involved in online Flash fandom since 1996, spent some time on Usenet in its waning years, got into forums and mailing lists around 2000, and no matter how much people loved or hated Wally or Barry, hated the concept of the speed force, etc., the boards never felt as hostile as they became when 2006 rolled around. Angry posters at Comic Bloc, a place looked down on by other boards as a moderator-enforced shiny-happy utopia, actually drove the Flash creative team offline. In my opinion, the Flash forums have never really recovered.
Shifting Into Reverse
So DC stopped moving forward, and started moving backward.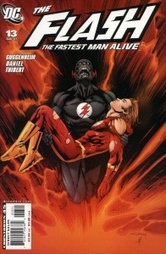 They killed Bart, angering his fans and leaving a bitter taste in everyone's mouths. They brought Wally back, but altered the premise of the book such that he shared the spotlight with his children. (Again, I think that Iris and Jai could have worked out just fine if they'd been handled differently, perhaps as supporting cast rather than co-stars.) Worse, they made it clear, over and over again, that Bart just couldn't cut it as the Flash.
And when that failed to recapture the shrinking audience, DC brought back Barry Allen as the Flash, and Bart Allen as Kid Flash, and they made damn sure you knew that Bart should never, ever have been the Flash, and Barry Allen was not only the best Flash who had ever been, but the best Flash who will ever be, so why bother with this Wally West guy?
There was a glimmer of hope: In Flash: Rebirth and The Flash: Secret Files, they set up potential stories with not just Barry Allen and the Rogues, but Wally West, Iris West II as Impulse, Jai West depowered and resentful, Bart Allen and Max Mercury. They even announced a Kid Flash series and backup Flash stories featuring Wally West, and when those didn't pan out, a Speed Force team book.
Then they abandoned everything except the Reverse Flash's time-traveling machinations and the way they led into Flashpoint…and decided it was time to revamp the universe again. And this time, the Flash would not be spared.
The legacy had been dismantled.
To be continued in Part 2: The Value of a Clean Slate.
Cover images via the Grand Comics Database.
Share